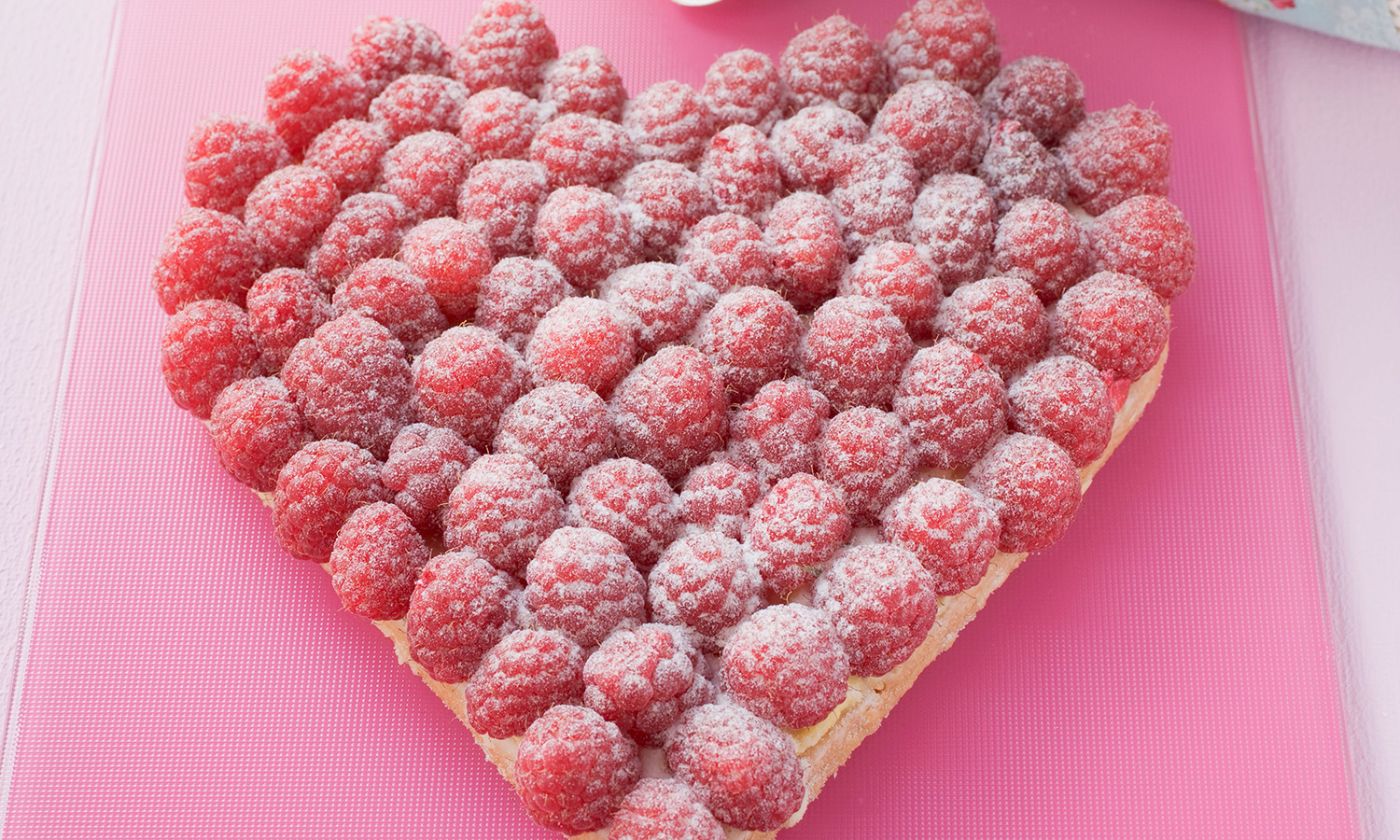 Raspberry Custard Heart Tart
PREP TIME:

25

minutes
BAKE TIME:

35

minutes
TOTAL TIME:

60

minutes
ingredients
½ (397 g) Package Tenderflake® Frozen Puff Pastry, defrosted overnight in the refrigerator
4 cups (2 L) Milk, plus 2 tbsp (30 mL)
1 cup (250 mL) Granulated sugar
1 tbsp (15 mL) Freshly grated lemon zest
1 Stick cinnamon
8 Egg yolks
5 tbsp (75 mL) Cornstarch
1 ½ tbsp (22 mL) Raspberry liqueur (optional)
2 pints Fresh raspberries
Icing sugar
directions
PREHEAT oven to 375°F (190°C).
ROLL pastry to a 13×13" (33 x33 cm) square. Prick all over with a fork and press into a heart shaped tart pan. Trim edges, with kitchen shears,  to leave a 1" (2.5 cm) overhang.. Gently flute the overhanging pastry to the edge of the pan. Line the inside with parchment paper and fill with dried rice or beans. Bake in preheated oven for 18-20 minutes or until golden brown. Remove rice or beans and parchment paper and bake for another 5 minutes. Remove from oven and allow to cool.
PLACE 4 cups (2 L) milk, sugar, lemon zest and cinnamon stick in a heavy saucepan. Set over medium heat and slowly bring to a boil.
BEAT egg yolks, cornstarch and 2 tbsp (30 mL) of milk together. Once the milk mixture has reached a boil, remove the pan from heat and discard the cinnamon stick. Allow to cool slightly, and whisk in the egg yolk mixture. Return the pan to the heat, stirring constantly until the mixture becomes thick and has a creamy consistency (do not boil). Add raspberry liqueur if desired.
POUR pastry cream into the cooled pastry shell. Allow to cool completely. Arrange raspberries decoratively on the top of the cream and dust with icing sugar before serving.