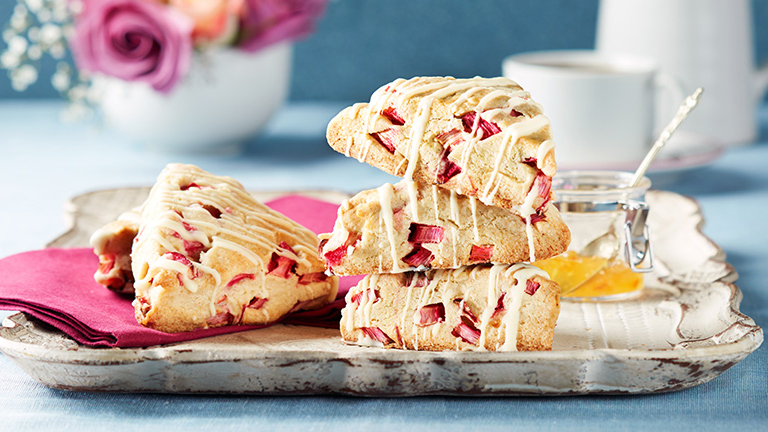 SERVES:

6

PREP TIME:

40

minutes
BAKE TIME:

40

minutes
TOTAL TIME:

80

minutes
ingredients
1 box of Tenderflake® Pie Shells
¼ cup (60 mL) butter, cold
¼ cup (60 mL) sugar
¼ tsp. (1.25 mL) baking powder
1 vanilla bean seed
½ cup (125 mL) flour plus 2 tbsp. (15 mL)
1 lg. egg
1½ cup (375 mL) fresh rhubarb, chopped
¼ cup (60 mL) icing sugar
3 tsp. (15 mL) milk
¼ tsp. (1.25 mL) vanilla extract
1/3 cup (80 mL) white chocolate chips
directions
Preheat oven to 325°F. Line a baking sheet with parchment paper and set aside.
Break up frozen pie shells and add them to a food processor. Pulse until crumbled. Add butter, sugar, baking powder and vanilla bean seeds pulsing until combined.
Spoon mixture out into a large mixing bowl. Add œ cup (125 mL) of the flour and chopped rhubarb. In a small bowl whisk egg and pour over mixture. Gently kneed together until ingredients are fully combined.
Dust work surface with remaining flour. Place dough onto surface and form into a 7 inch round disk. Cut dough into 6 triangles. Transfer triangles onto prepared baking tray and bake for 40 minutes.
In a small microwavable bowl melt white chocolate chips and drizzle over warm scones.