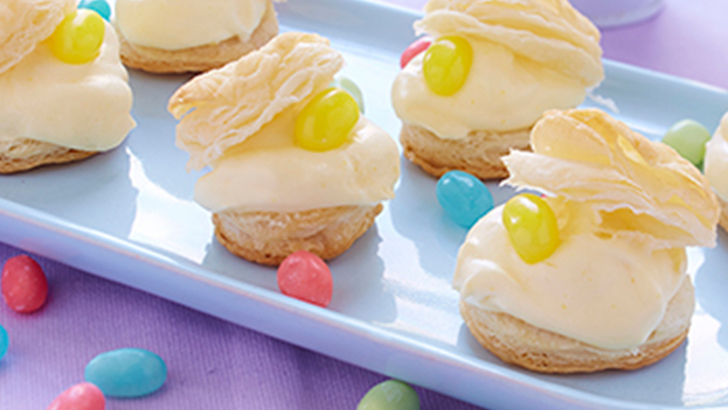 Robin's Egg Lemon Cream Puffs
PREP TIME:

15

minutes
BAKE TIME:

150

minutes
TOTAL TIME:

165

minutes
ingredients
.25 cup (60 mL) Sugar
1 Egg
2 tbsp (30 mL) Fresh lemon juice
½ tsp (2 mL) Lemon zest
Pinch of salt
1 ½ tbsp (22 mL) Unsalted butter
½ cup (125 mL) Whipping cream (35%)
1 Package (397 g) Tenderflake® Frozen Puff Pastry, defrosted
24 Multi-coloured malted eggs or jelly beans
directions
LEMON CREAM:
WHISK together sugar, egg, lemon juice, lemon zest and salt in a small saucepan. Add butter and cook over medium-low, stirring constantly until mixture is thick enough to coat the back of a spoon. Do not boil. Transfer lemon curd to a bowl and cover the surface with plastic wrap. Chill until cool and firm. This can be made to this point up to two days ahead.
USING an electric mixer beat whipping cream in a mixing bowl until soft peaks form. Fold whipped cream into lemon curd one-third at a time. Cover and chill for at least one hour or up to two.
PREHEAT oven to 400°F (200°C).
CUT pastry in half. Working on a lightly floured work surface, using a lightly floured rolling pin, roll each half to a 6"x7" (15×18 cm) rectangle. Using a 2" (5 cm) round cutter, cut pastry into 12 rounds from each rectangle. Place each round into a mini muffin pan and bake in preheated oven for 15-20 minutes or until golden brown and puffed.
REMOVE from oven and let cool. When cool, cut each pastry in half horizontally and place a dollop of lemon cream on the bottom of each pastry. Top with a malted Easter egg or a jellybean and the top half of the pastry. Serve immediately.
Notes:
If you are using yellow jellybeans, leave the top off - they look like little eggs.