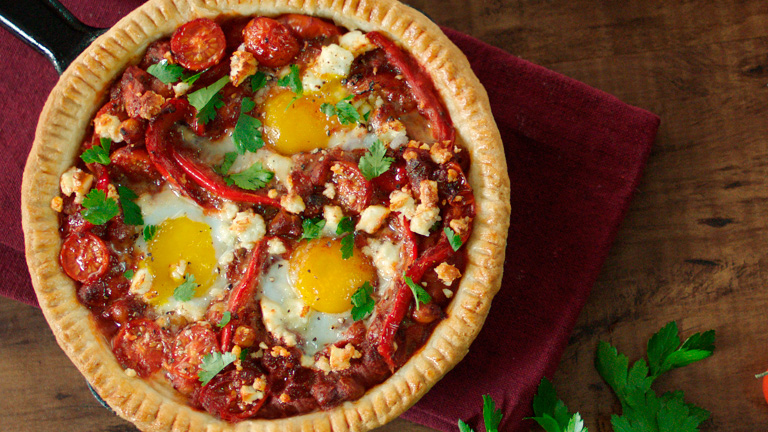 SERVES:

6

PREP TIME:

30

minutes
BAKE TIME:

40

minutes
TOTAL TIME:

0

minutes
ingredients
1 box of Tenderflake® Pie Shells
½ cup (125 mL) red onion diced
¾ cup (375 mL) red pepper sliced
4 garlic cloves minced
1 tbsp. (15 mL) olive oil
2 tsp. (10 mL) ground cumin
1 tsp. (5 mL) smoked paprika
2 tsp. (10 mL) ground coriander
½ cup (125 mL) cherry tomatoes halved
1 cup (250 mL) chickpeas drained and rinsed
1 cup (250 mL) crushed low-sodium canned tomatoes
3 lg. eggs
¼ cup (60 mL) crumbled feta
Handful each fresh basil and cilantro
Salt and pepper
Plain yogurt for serving, optional
directions
Preheat oven to 400°F.
Remove pie shells from foil plate and place one inside the other into a 7- inch round skillet. Press edges together and use a fork to seal. Bake for 7 minutes or until crust is a light golden colour.
In a large pan over medium high heat add olive oil, onion, garlic and pepper slices - sautéing until fragrant and vegetables are tender (approximately 5-10 minutes). Stir in cumin, paprika, coriander, tomatoes, chickpeas and crushed tomatoes and cook for another 10 minutes. Season with salt and pepper to taste.
Spoon mixture into cooked pie shell. Make 3 wells with a spoon and crack an egg into each well. Sprinkle with feta and return to oven for 15 minutes or until eggs are just done.
Garnish with chopped parsley and cilantro. Serve with yogurt if using.