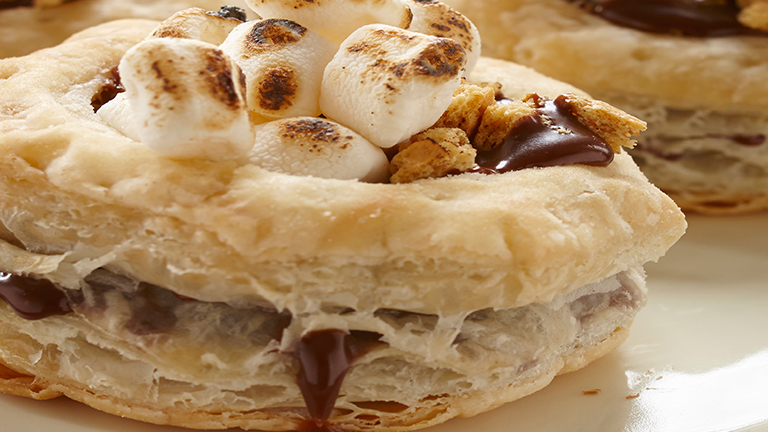 PREP TIME:

20

minutes
BAKE TIME:

70

minutes
TOTAL TIME:

90

minutes
ingredients
1 pkg Tenderflake puff pastry patty shells
6 oz milk chocolate, chopped
1/4 cup whipping cream
2 tbsp butter, cubed
1 tbsp vanilla
½ cup graham cracker cookies, crumbled
1 cup mini marshmallows
directions
Bake pastries until golden following the package instructions and set aside to cool.
In a bowl fitted over a saucepan of simmering water, melt chocolate and whipping cream, stirring often, until smooth. Whisk in butter and vanilla and set aside to thicken and cool slightly for about 10 minutes. (if the chocolate is too thin it twill leak through the pastry shell)
Spoon chocolate evenly over each pastry and chill until set, about 1 hour. Sprinkle with graham crackers, pressing gently to adhere.
Divide marshmallows over the tops of each pastry and use a kitchen torch or place under the broiler to carmelize the marshamallows.