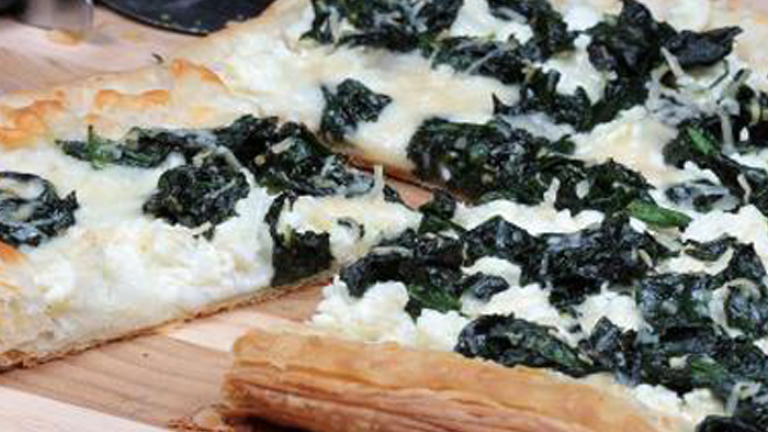 Spinach And Feta Puff Pizza
PREP TIME:

10

minutes
BAKE TIME:

15

minutes
TOTAL TIME:

25

minutes
ingredients
1/2 (397 g) Package Tenderflake® Puff Pastry, thawed
1 tbsp (15 mL) Olive oil
2 Cloves garlic, chopped
3 cups (625 mL) Chopped fresh spinach Pepper
1 cup (250 mL) Grated Mozzarella cheese
½ cup (125 mL) Crumbled Feta cheese
Pinch nutmeg
¼ cup (60 mL) Freshly grated Parmesan cheese
directions
PREHEAT oven to 375°F (190°C). ROLL out puff pastry on a lightly floured surface with a lightly floured rolling pin to a 10 X 11 inch (25 X 27 cm) rectangle. Place on a parchment lined baking sheet and trim the edges using a pizza cutter or a sharp knife. Score a 1 inch (2.5 cm) border around the outside of the pastry with a pizza cutter or a sharp knife. Prick the center of the pastry all over using a fork. Bake in preheated oven for 10 minutes until par-baked.
HEAT olive oil in a large skillet over medium-high heat. Add garlic and cook until fragrant, about 30 seconds. Toss in the spinach and cook 1-2 minutes or until just wilted. Remove from the heat and set aside.
SPRINKLE the par-baked pizza with Mozzarella & Feta cheese and spinach. Top with Parmesan cheese and a sprinkle of nutmeg.
RETURN to oven and bake for 8-10 minutes or until golden brown. Serve hot.