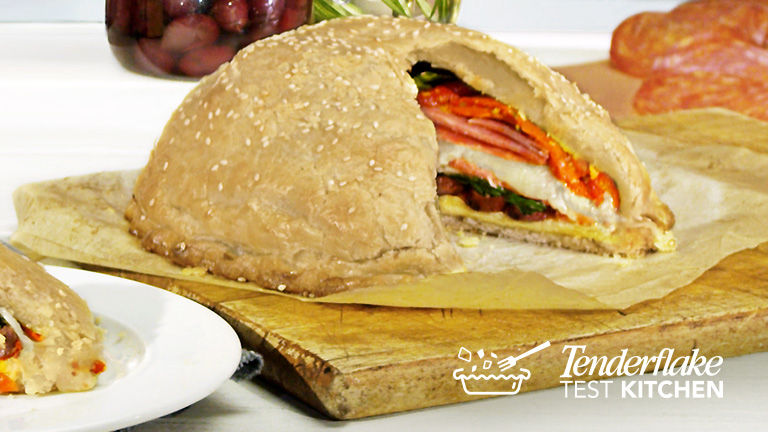 Stuffed Sicilian Sandwich
SERVES:

6

PREP TIME:

15

minutes
BAKE TIME:

25

minutes
TOTAL TIME:

40

minutes
ingredients
1 box of Tenderflake® Deep Dish Pie Shells
2 Tbsp (30ml) basil pesto
1 12oz jar of roasted red peppers, drained
200g thinly sliced provolone cheese
150 grams of thinly sliced Genoa salami
150 grams of thinly sliced Mortadella ham
2 cups (500ml) baby spinach
3/4 cup (177ml) pitted Kalamata olives, chopped
1 egg, beaten with 1 tsp (5ml) milk or water
1 Tbsp. (15ml) sesame seeds
directions
Thaw pastry according to package directions.
Preheat oven to 400F.
Line a 6-inch bowl with parchment. Line the bowl with one pie shell.
Spread basil pesto onto the dough. Pat roasted red peppers dry with paper towel and layer half of the roasted red peppers onto the dough. Layer in half of the provolone cheese. Layer in the salami, the remaining cheese, the baby spinach and the mortadella ham. Add in the olives and the remaining roasted red peppers.
Brush the egg wash around the rim of the pastry and place the second piece of dough on top. Pinch the edges together.
Place a parchment lined bake sheet on top of the bowl and flip over. Gently remove the bowl. Brush with egg wash and sprinkle with sesame seeds. Bake for 25 mins or until pastry is golden brown. Slice into wedges and serve.