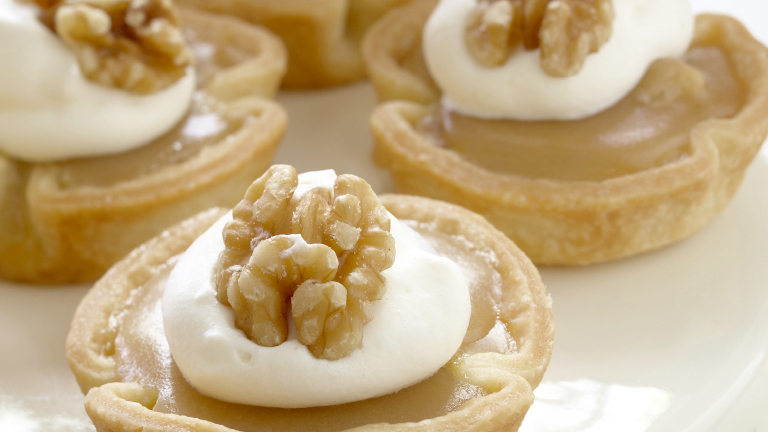 PREP TIME:

25

minutes
BAKE TIME:

25

minutes
TOTAL TIME:

50

minutes
ingredients
2 Tenderflake® Frozen Deep Dish Pie Shells, thawed
½ cup (125 mL) + 2 tbsp (30 mL) Butter, at room temperature
1-3/4 cup (425 mL) Brown sugar, divided
½ cup (125 mL) All-purpose flour
2 Eggs
1 cup (250 mL) Chopped walnuts
2/3 cup (150 mL) Apricot jam
3 tbsp (45 mL) Milk
1 tsp (5 mL) Maple flavouring
1 ½ cups (375 mL) Icing sugar
directions
PREHEAT oven to 375?F (190?C).
REMOVE pie shells from foil onto a lightly floured work surface. Gently roll out to a diameter of 9 œ inches (24 cm). Using a 3 inch (8 cm) round cookie cutter, cut each pie shell into 8 rounds. Carefully fit into mini muffin tins.
BAKE muffin cups in preheated oven for 15-20 minutes. Cool slightly and remove pastry cups onto a parchment lined baking sheet. Reduce oven temperature to 350?F (180?C).
BEAT together œ cup (125 mL) butter, 1 cup (250 mL) brown sugar and eggs.  Stir in flour and walnuts. Spoon œ tsp (2 mL) jam into pastry cups and top with butter/egg mixture. Bake in preheated oven for 20 minutes or until set.  Remove from oven and cool slightly.
MEANWHILE heat small saucepan over medium-high heat. Add remaining brown sugar, 2 tbsp (30 mL) butter and milk. Bring to a boil and cook for about 2 minutes or until sugar is dissolved, stirring constantly. Remove from the heat, stir in maple flavouring and slowly stir in icing sugar. Spread hot mixture on tarts and allow to cool completely before serving.
Tips
Top with a dollop of whipped cream and a walnut half before serving.