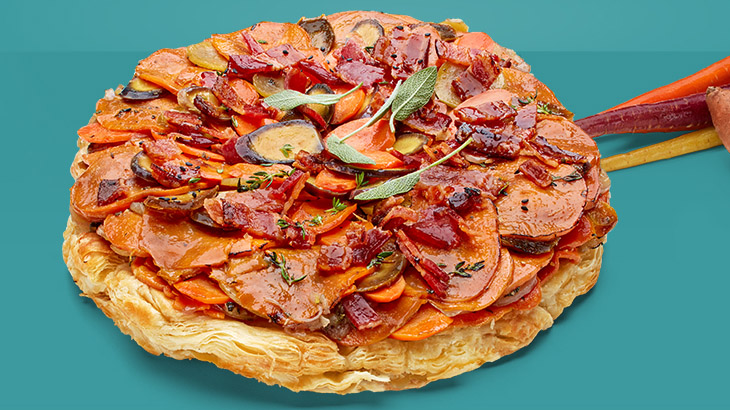 SERVES:

6

PREP TIME:

15

minutes
BAKE TIME:

45

minutes
TOTAL TIME:

60

minutes
ingredients
1 block Tenderflake® Puff Pastry
6 slices of fresh bacon
2 tbsp. (30 mL) maple syrup
2 medium sweet potatoes washed and peeled
2 yellow onions
5 large heirloom carrots washed and peeled
¼ cup (60 mL) fresh sage, finely chopped extra leaves for garnish
2 tbsp. (30 mL) fresh thyme, finely chopped
1 tbsp. (15 mL) olive oil
¼ cup (60 mL) & 2 tbsp. (30 mL) butter
2 tbsp. (30 mL) brown sugar
¼ tsp. (1 mL) nutmeg
2 cloves garlic minced
1 tbsp. (15 mL) pepper
¼ cup (60 mL) chicken stock
½ tsp. (2 mL) cornstarch
3 tbsp. (45 mL) flour
2 tbsp. (30 mL) black sesame seeds
Crème Fresh for serving
directions
Thaw puff pastry according to package instructions. Preheat oven to 400°F. Line a baking tray with parchment paper and set aside.
Place bacon onto lined tray, drizzle with maple syrup. Cook for 6 minutes, flip and cook for another 6 minutes. Allow bacon to cool completely before chopping.
Thinly slice potato, onions and carrots into 1/8-inch thick rounds. Artfully place potato and carrots into a 9-inch oven safe pan.
In a medium sauté pan over medium high heat, cook onion with 2 tbsp. butter and olive oil until tender, 3-5 minutes. Stir in brown sugar and cook for 8-10 minutes until onion is golden brown. Add remaining butter, herbs, nutmeg, garlic, pepper and chicken stock and cornstarch cook until fragrant, 5 minutes. Pour herbed sauce over potato and carrot slices.
Dust your work surface with flour; using a lightly floured rolling pin, roll out pastry into a 10×10-inch square. Lay pastry on top of vegetables, place pan into the oven and bake for 20- 25 minutes until pastry is golden brown and puffed.
Allow pan to cool for 10 minutes. Gently overturn tatin onto serving dish. Top with chopped bacon and a dollop of crème fresh. Sprinkle with sesame seeds and fresh sage leaves. Serve slices with extra crème fresh if desired. Enjoy!