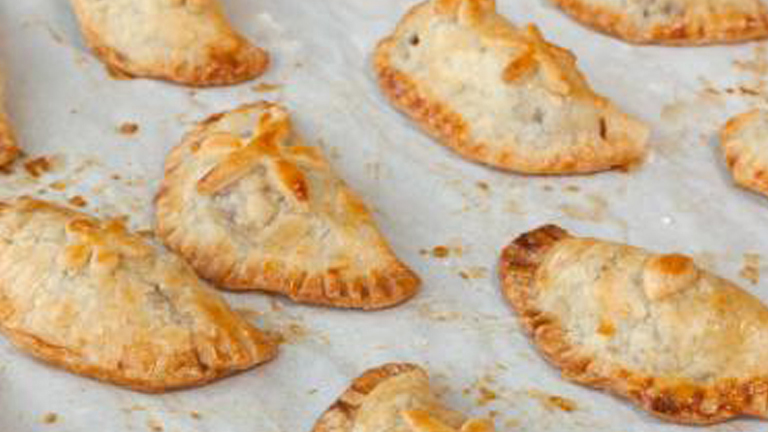 PREP TIME:

10

minutes
BAKE TIME:

20

minutes
TOTAL TIME:

30

minutes
ingredients
1 lb (450 g) Lean ground pork
1 Small onion, finely chopped
2 Cloves garlic, minced
1/2 tsp (2 mL) Salt
1/4 tsp (1 mL) Dried thyme
Freshly ground black pepper
Pinch of allspice
1 tbsp (15 mL) Flour
1 Egg, lightly beaten
2 Tenderflake® Frozen Deep Dish Pie Shells, defrosted
directions
HEAT a large skillet over medium-high. Add ground pork and cook until meat is no longer pink. Add onion, garlic, salt, thyme, pepper and allspice. Continue to cook until pork is golden brown. Stir in flour and cook for 1-2 minutes longer.
PREHEAT oven to 400°F (200°C).
USING a paring knife, gently remove the pastry from the foil pie plates onto a lightly floured work surface. Flatten the pastry with a lightly floured rolling pin then cut circles from the pastry using a 3" (7 cm) round cookie cutter.
PLACE a spoonful of the meat mixture on each of the pastries. Brush the edges with egg wash; fold in half and press the edges to seal. Place on a parchment paper lined baking tray. Prick the tops with a fork or cut a small slit in the top of each pastry to allow steam to escape.
BAKE for 18-20 minutes or until golden brown.