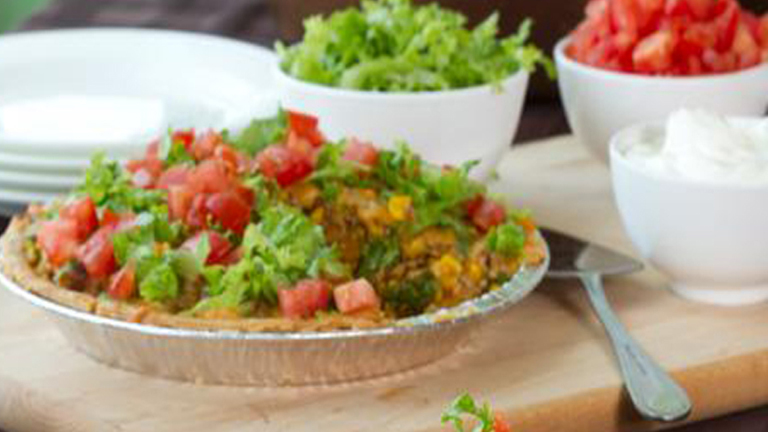 PREP TIME:

25

minutes
BAKE TIME:

25

minutes
TOTAL TIME:

45

minutes
ingredients
1 Tenderflake® Frozen Deep Dish Pie Shell
2 tbsp (30 mL) Olive oil
1 Pkg (454 g) Maple Leaf Prime Naturally® Extra Lean Ground Turkey
1 Small onion, chopped
2 Cloves garlic, minced
1 Pkg (35 g) Taco seasoning
1 cup (250 mL) Corn, canned or frozen
1 cup (250 mL) Grated Cheddar cheese
1 cup (250 mL) Shredded lettuce
1 Tomato, chopped
2 tbsp (30 mL) Sour cream
directions
BAKE pie shell according to package directions. Reduce oven temperature to 375°F (190°C).
HEAT oil in a large skillet over medium-high. Add turkey and season with salt and pepper. Cook for 5-6 minutes, breaking apart with a wooden spoon. Add onion and continue to cook for 4-5 minutes. Stir in garlic and taco seasoning, cook for 1-2 minutes. Add 1 cup (250 mL) of water and bring to a boil. Reduce heat to simmer and continue to cook for 7-8 minutes or until most of the liquid is absorbed. Stir in corn.
TRANSFER the turkey mixture to the baked pie shell. Top with cheese and bake for 20-25 minutes or until cheese is melted and bubbly. Remove from the oven and let cool for about 5 minutes.
TOP with lettuce, tomato and sour cream. Serve with salsa.