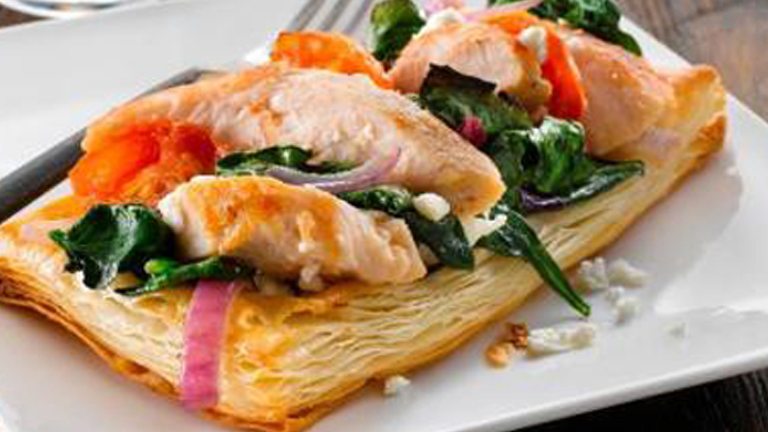 Turkey, Tomato And Feta Tarts
PREP TIME:

10

minutes
BAKE TIME:

25

minutes
TOTAL TIME:

35

minutes
ingredients
15 ml Olive oil
2 Cloves garlic, minced
1 Medium red onion, sliced
300 g Packages PRIME® Fully Cooked Sliced Turkey Breast
18 Cherry tomatoes, halved
500 ml Baby spinach
Salt and pepper to taste
397 g Package TENDERFLAKE® Puff Pastry, thawed according to package directions
125 ml Crumbled Feta Cheese
directions
PREHEAT oven to 450°F (230°C). HEAT olive oil in a skillet over medium heat. Sauté garlic for 1 minute, add red onion and sauté for an additional 5 minutes, or until onion starts to caramelize.
REMOVE from heat and add turkey, cherry tomatoes and spinach. Season with salt and pepper and set aside.
ROLL 1/2 of chilled puff pastry on a lightly floured surface into a 12 x 9-inch (30 x 23 cm) rectangle. Cut each rectangle crosswise into 3 and place slices on a baking sheet lined with parchment paper. Repeat with other œ of pastry.
TOP each piece of pastry with equal amounts of spinach mixture and sprinkle with equal amounts of Feta cheese. Bake for 20 to 25 minutes or until pastry is cooked and golden. Serve and enjoy.