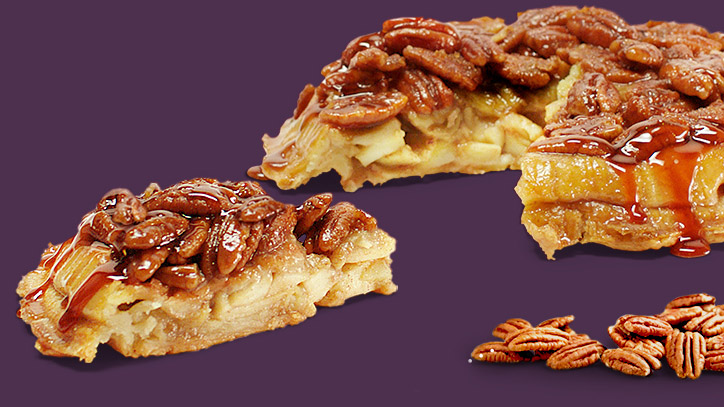 UPSIDE DOWN APPLE PECAN PIE
SERVES:

8

PREP TIME:

20

minutes
BAKE TIME:

40

minutes
TOTAL TIME:

60

minutes
ingredients
2 Tenderflake® Frozen Deep Dish Pie Shells
1 cup (250 mL) pecans
1/3 cup (75 mL) + 4 tbsp. (60 mL) butter
1/2 (125 mL) cup + 2 tbsp. (30 mL) packed brown sugar
3 cups (750 mL) apples - peeled, cored and sliced
2 tsp. (10 mL) freshly grated gingerroot
1/4 tsp. (1 mL) ground cinnamon
directions
Thaw pie shells according to package instructions. Remove first pie shell from foil plate and set aside. Reserve foil plate. Preheat oven to 375°F.
Melt 1/3 cup of butter. In a medium sized bowl, whisk together melted butter and brown sugar until smooth. Stir in pecans.
Pour pecan mixture into the center of reserved foil plate and top with first pie shell.
Melt 4 tbsp. of butter in a large skillet over medium-high heat. Stir in apples, brown sugar, cinnamon and ginger. Cook, stirring for 2-3 minutes or until soft.
Arrange the warm apple mixture on top of the pie shell in the pan. Remove second pie shell from foil plate and with the bottom of the shell facing upwards; place on top of apple mixture. Press edges to seal and flute. Transfer pie to a baking tray and cut slits in the top pie shell to allow steam to escape.
Bake for 35-40 minutes or until golden brown. Remove from the oven and allow to cool for 10 -15 minutes. Invert the pie onto a serving plate. Slice and serve warm. Enjoy!