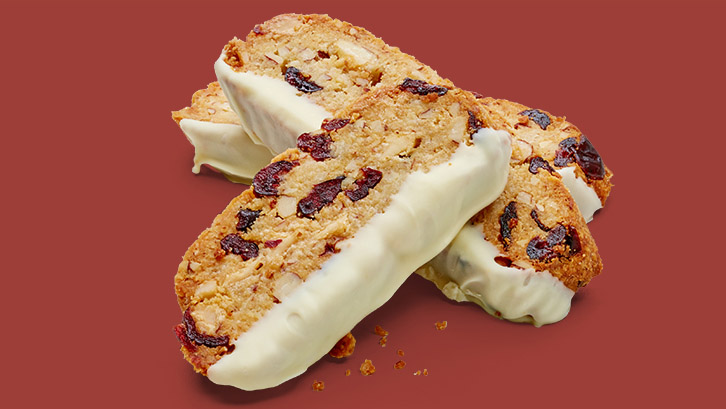 White Chocolate Almond Biscotti
SERVES:

18

PREP TIME:

30

minutes
BAKE TIME:

30

minutes
TOTAL TIME:

60

minutes
ingredients
2 Tenderflake® Pie Shells
1/2 cup (125 mL) whole almonds chopped
1/2 cup (125 mL) ground almonds
1 tbsp. (15 mL) lemon zest
1/4 cup (60 mL) sugar
1 lg. egg
1/4 cup (60 mL) flour
1/2 cup (125 mL) dried cranberries
3/4 cup (190 mL) white chocolate chips
directions
Pre-heat oven to 375F. Line 2 baking trays with parchment paper and set aside.
Remove frozen pie shells from pie plates and break apart into a food processer. Pulse into coarse crumbs. Add chopped almonds, ground almonds, lemon zest, sugar and egg. Pulse until combined and dough forms into a ball.
Dust your work surface with flour and place dough onto your work surface. Pour cranberries and 1/4 cup of chocolate chips onto dough and gently knead to combine.
Roll dough into a 12 x 3 inch log. Transfer log onto lined tray and bake for 15-20 minutes until edges are golden brown. Remove from oven and cool for 5 minutes. Place into freezer for 25 minutes or until very firm before slicing.
Place log onto a cutting board, using a serrated knife, cut each log on a diagonal into 3/4 inch slices. Return sliced biscotti to the same baking tray. Reduce oven temperature to 350F and bake for another 10-15 minutes. Remove from oven and cool completely.
Using a double boiler, melt remaining chocolate chips. Dip and coat the bottoms of biscotti into melted chocolate. Place onto second lined tray and allow chocolate to set. Serve with your favourite warm beverage.
Tips: o For a different flavor, replace white chocolate with dark chocolate and lemon with orange!