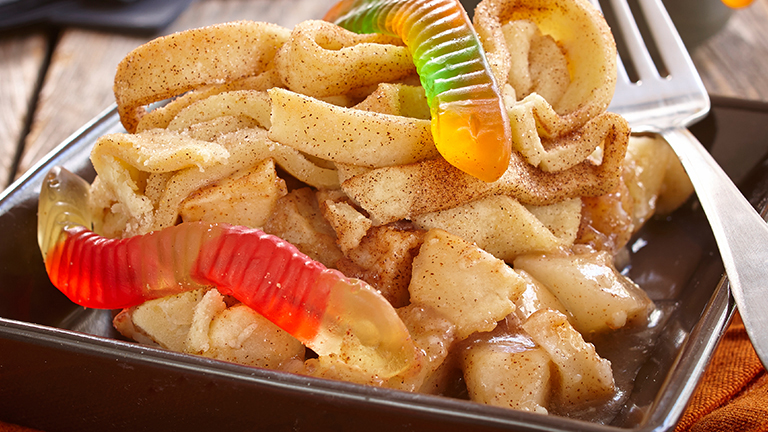 PREP TIME:

10

minutes
BAKE TIME:

20

minutes
TOTAL TIME:

30

minutes
ingredients
2 Tenderflake® Frozen Deep Dish Pie Shells
4 Large Bosc pears
6 Macintosh apples
1 tsp (5 mL) Orange zest
1 tsp (5 mL) Lemon zest
2 tbsp (30 mL) Orange juice
2 tbsp (30 mL) Lemon juice
½ cup (125 mL) Sugar
¼ cup (60 mL) Flour
1 tsp (5 mL) Cinnamon
½ tsp (2 mL) Ground ginger
||
TOPPING:
1/3 cup (80 mL) Sugar
½ tsp (2 mL) Cinnamon
½ tsp (2 mL) Ground ginger
directions
PREHEAT oven to 350°F (180°C).
PEEL, core and dice pears and apples. In a large bowl, toss together zest, juice, sugar, flour and spices. Place in a buttered 9×13 (3.5 L) rectangular pan.
TOPPING:
MIX sugar and spices in a large bowl. Carefully remove one of the pie shells from the foil pan. Transfer to a lightly floured work surface. Using a pizza cutter or a sharp knife, cut pastry into Π" (.5 cm) strips. Repeat with remaining pie shell. Separate strips and toss with sugar mixture.
Arrange pastry strips over top of the fruit to cover.
BAKE in preheated oven for 18-22 minutes or until golden brown. Serve with ice cream or whipped cream.
Garnish with gummy worms.