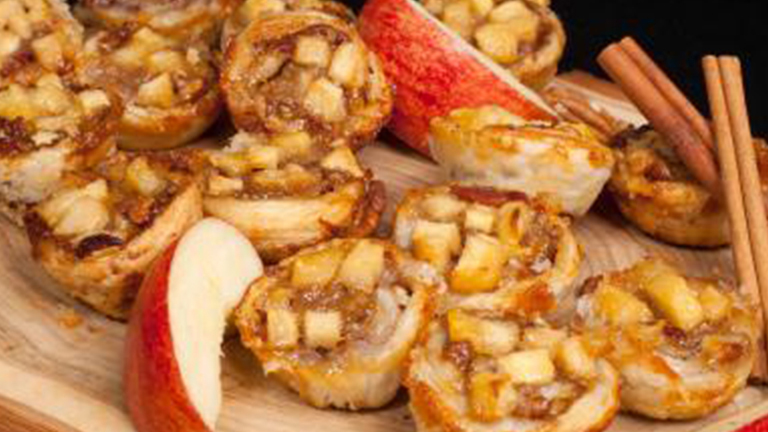 Apple Bacon Sticky Biscuits
PREP TIME:

15

minutes
BAKE TIME:

25

minutes
TOTAL TIME:

40

minutes
ingredients
1 Pkg (397 g) Tenderflake® Frozen Puff Pastry, defrosted
1/4 cup (60 mL) Melted butter
1/3 cup (80 mL) Brown sugar
3/4 tsp (4 mL) Cinnamon
1/2 cup (125 mL) Chopped pecans
8 Slices Maple Leaf® Bacon, cooked and chopped
1 cup (250 mL) Apple, peeled and finely diced
1/3 cup (80 mL) Caramel sauce
directions
PREHEAT oven to 400°F (200°C).
ROLL out each half of the puff pastry on a lightly floured work surface using a lightly floured rolling pin into a 10×12" (25×30 cm) rectangle. Brush with butter and sprinkle half of each with brown sugar, cinnamon, pecans and bacon bits. With the long side facing you, roll the pastry around the filling as tightly as possible. Cut each into 12 - 1" (2.5 cm) pinwheels.
LIGHTLY grease a 24 muffin - mini muffin tin with some of the remaining butter. Place each pinwheel, spiral facing up into the muffin tin.
MIX apples and caramel sauce. Place 1 tsp (5 mL) of the apple-caramel mixture on top of each pinwheel and press down.
BAKE for 20-25 minutes or until puffed and golden. Remove from the pan while still warm.