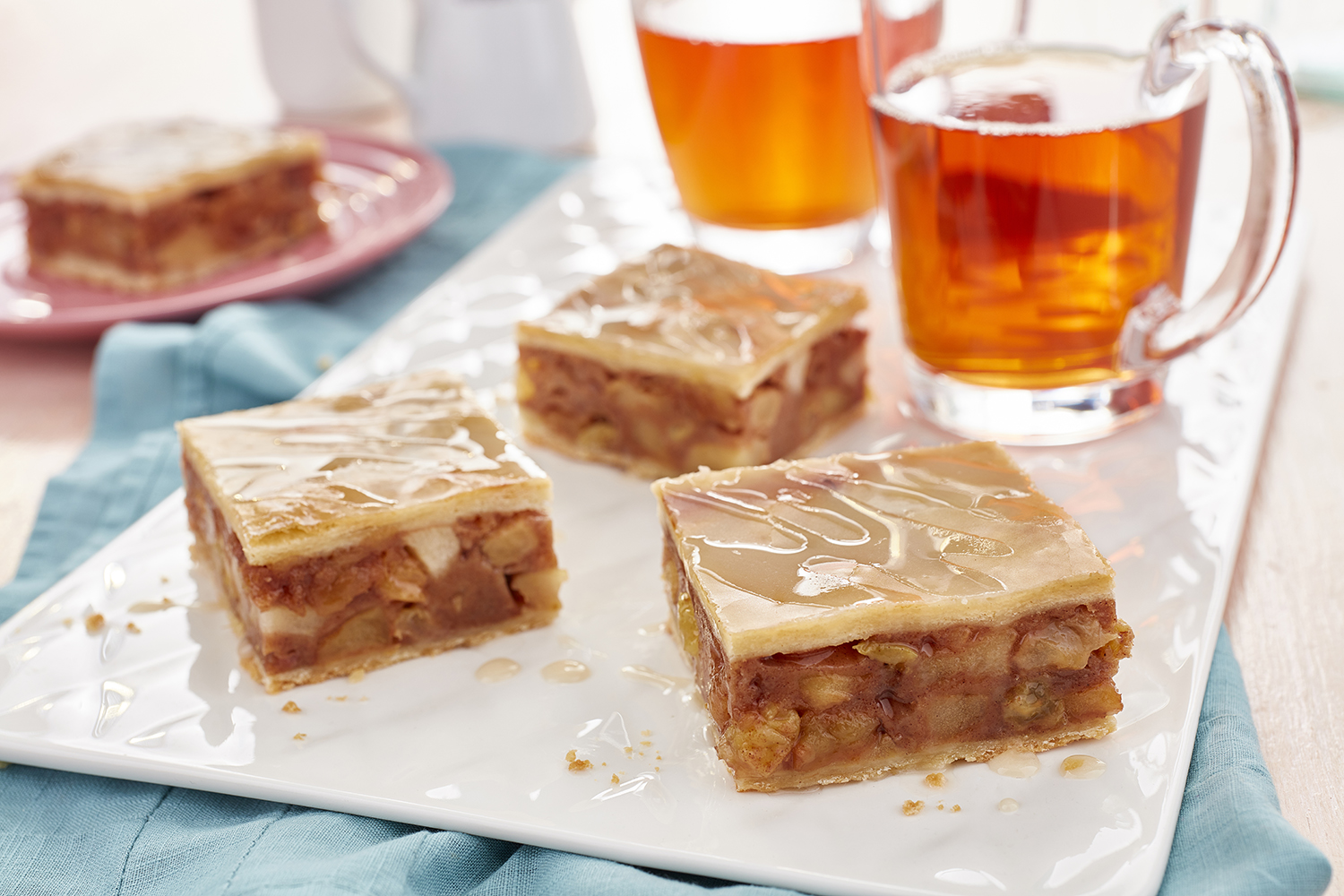 SERVES:

16

PREP TIME:

10

minutes
BAKE TIME:

45

minutes
TOTAL TIME:

55

minutes
ingredients
1 pkg. of Tenderflake® Vegetable Shortening Pie Shells
3 ½ cups (875ml) Empire apples*, peeled and finely chopped (roughly 4 small apples)
2¼ tsp. (10.25ml) vanilla extract
2 tbsp. (30ml) lemon juice
2½ tsp. (10.5ml) ground cinnamon
1 tsp. (5ml) grated fresh ginger
2 tbsp. (30ml) water
1/3 cup (78ml) packed brown sugar
½ cup (125ml) golden raisins
1 tbsp. (15ml) sugar
1/8 tsp. (.60ml) all spice
3 tbsp. (45ml) butter melted
½ cup (125ml) all-purpose flour
1 lg. egg
¼ tsp. (.25ml) baking powder
¼ cup +1 tbsp. (90 ml) icing sugar
1 tbsp. (30ml) milk
directions
Pre-heat oven to 400°F. Spray an 8x8 inch baking pan with cooking spray and line with parchment paper.  Thaw pie shells according to package instructions.
In a small saucepot, gently simmer 2 œ cups of chopped apples, 2 tsp. (10 ml) vanilla, lemon juice, 2 tsp. (10 ml) cinnamon, ginger, water and brown sugar for 10 minutes over medium heat
In a small bowl, stir together remaining chopped apples, sugar, raisins, œ tsp. (.5 ml) cinnamon and all spice.
In a medium sized bowl, whisk together melted butter, egg and the liquid from cooked apples. Whisk in flour and baking soda until fully combined. Stir in cooked and uncooked apple mixtures until combined.
Remove thawed pie shells from foil and place onto floured work surface. Fold pastry edges towards the center creating two 7x7inch squares (or cut pastry into a 7x7 square) to fit into 8x8 inch baking pan. Place one pastry square onto lined baking pan. Bake for 8 minutes.
Pour apple mixture over cooked pastry base. Place second pastry square over top of apple mixture. Bake 25 minutes until golden brown.
In a small bowl, stir together Πtsp. (.25 ml) of vanilla, icing sugar and milk. Pour glaze over pastry. Cut cake into squares. Serve warm.