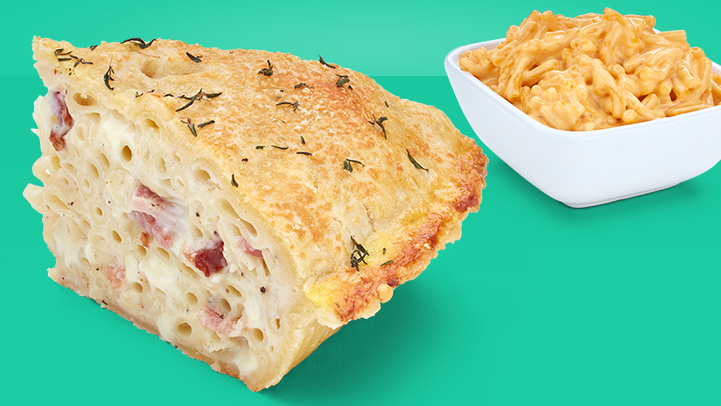 SERVES:

6

PREP TIME:

15

minutes
BAKE TIME:

20

minutes
TOTAL TIME:

35

minutes
ingredients
2 Tenderflake® Vegetable Shortening pie shells
2 cups (500 mL) Elbow Macaroni Noodles
4 cups (1L) water
6 Thick Slices of good bacon
1/4-cup (60 mL) butter
1/4-cup (60 mL) flour
1/2 tsp. nutmeg
3 tsp. (15 mL) fresh thyme reserve 1 tsp. for topping
2 cups (500 mL) of milk
1/2 cup (125 mL) of cream
3 cups (750 mL) of white cheddar cheese
1 tsp. (5 mL) pepper
pinch of Salt
1 tbsp. (15 mL) grated Parmesan cheese
1 egg for egg wash
directions
Pre-heat oven to 400 Degrees F. Set a plate aside with paper towel. Set pie shells on a baking tray and set aside. In a small bowl whisk egg and brush edges of piecrust.
Line a baking tray with parchment and cook bacon for 7 minutes, flip and cook for another 7 minutes. Remove from oven and set bacon on paper towel. Once cooled, roughly chop into 1/2 inch pieces and set aside.
In a medium sauce pot bring water to a gentle boil. Cook pasta for 8 minutes. Drain and set aside.
In a large sauce pan, over medium high heat, melt butter. Add flour and whisk continuously for 3 minutes. Continue whisking and slowly add 1 cup of milk. Once flour is dissolved add remaining milk and cream. Add cheese, 2 tsp. thyme, salt, pepper and nutmeg. Continue to whisk until cheese is fully melted and sauce has thickened. Add noodles and bacon and stir to combine. Pour mixture into one pie shell.
Gently invert second pie shell and place on top of pie filling. Gently press shell over noodles. Press edges together, fluting the edges for a decorative design. Brush top with egg wash. Cut slits in the top to allow hot air to escape and sprinkle with remaining thyme and Parmesan cheese.
Bake pie for 18-20 minutes until crust is golden brown. Remove and allow pie to rest 5 minutes before slicing. Serve warm and enjoy.