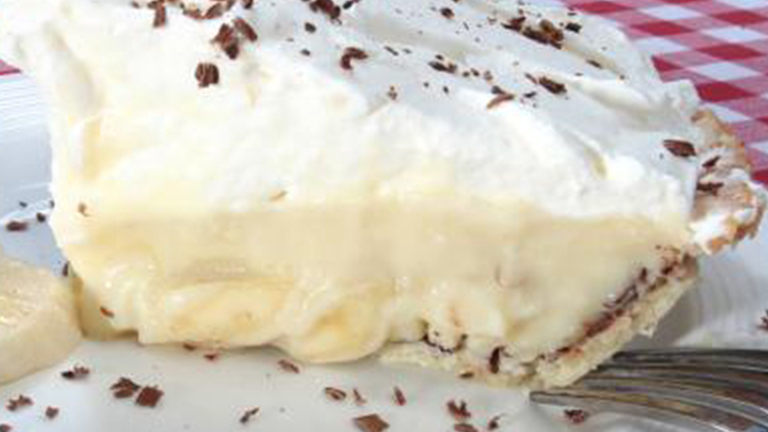 PREP TIME:

10

minutes
BAKE TIME:

10

minutes
TOTAL TIME:

20

minutes
ingredients
Banana Cream Pie:
1 Tenderflake® All Vegetable Shortening Frozen Deep Dish Pie Shell, defrosted
2 oz Bittersweet chocolate
2 tsp Vegetable oil
3 Eggs
1/2 cup Sugar
3 tbsp Cornstarch
1/4 tsp Salt
2 cups Homogenized milk (3.25%)
2 tbsp Butter
2 tsp Vanilla extract
3 Bananas, peeled and sliced
||
Topping:
1 cup Whipping cream
2 tbsp Sugar
1/4 tsp Vanilla
directions
Banana Cream Pie:
BAKE Pie shell according to package directions. Set aside to cool.
MELT chocolate and vegetable oil together in the microwave for 2 minutes on high. Stir to combine. Brush melted chocolate over the bottom of the prebaked pie shell. Chill until set.
WHISK eggs, sugar, cornstarch and salt in a medium saucepan until smooth. Place over medium heat and gradually whisk in the milk. Slowly bring to a boil, stirring constantly until thickened, about 1-2 minutes. Remove from heat and stir in butter and vanilla. Fold in bananas and allow filling to cool slightly before pouring into prepared pie shell. Cover pie with plastic wrap and chill for 3 hours or up to overnight.
TOPPING:
BEAT whipping cream, sugar and vanilla in a medium bowl using a hand beater or stand mixer. Beat until soft peaks form.SPOON whipped cream over chilled pie and using a spatula swirl topping into decorative peaks.