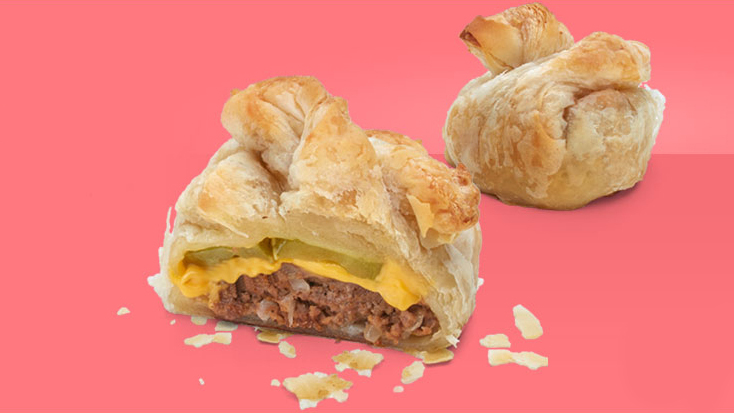 BBQ Cheese Burger Slider Bundles
SERVES:

12

PREP TIME:

20

minutes
BAKE TIME:

20

minutes
TOTAL TIME:

40

minutes
ingredients
1 pkg. of Tenderflake® Puff Pastry
½ lb. ground beef
2 tsp. (10 mL) Dijon mustard
1 tsp. (5 mL) garlic powder
1 tsp. (5 mL) Salt
2 tsp. (10 mL) pepper
1 tbsp. (15 mL) BBQ sauce
¼ cup (60 mL) white onion minced
2 Dill pickles thinly sliced into ¼ inch rounds
3 Cheese slices cut into 4 equal squares
directions
Pre-heat BBQ to 400 Degrees F. Line a baking tray with foil. Cut a piece parchment paper to sit on top of foil leaving a 1-inch border.
In a medium sized bowl combine beef, mustard, garlic powder, bbq sauce, onion, salt and pepper. Measure out 12 tbsp. of mixture and roll into balls.
Roll out 1 block of pastry into a 10x 10inch square. Slice pastry into 6 3x5inch rectangles.
Place one ball onto the center of each rectangular pastry piece. Top with 1 slice of cheese followed by two slices of pickle. Fold the pastry corners up and over the filling, twisting the corners to seal the bundles. Place onto lined baking tray. Repeat steps with the remaining pastry.
To BBQ: Adjust burners to a medium low setting, maintaining an internal even heat of 400 Degrees F. Place the baking tray on the grill. Close lid and cook for 18-20 minutes until pastry is golden brown and puffed. Be sure to check your bundles periodically and rotate where needed so as not to burn the bottoms of the pastry. Serve warm with your favourite burger dipping sauces.