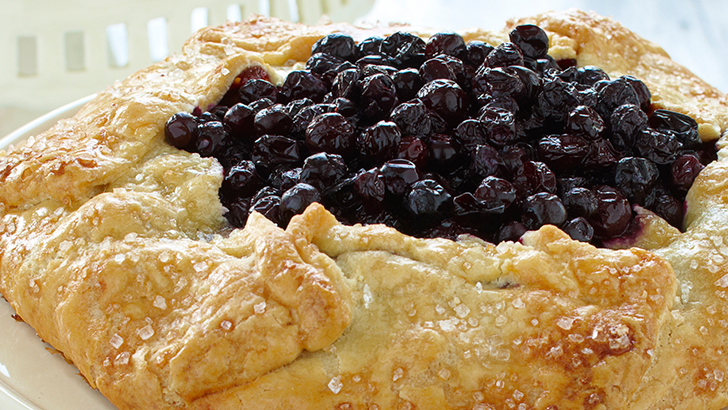 PREP TIME:

15

minutes
BAKE TIME:

30

minutes
TOTAL TIME:

45

minutes
ingredients
1 TENDERFLAKE® Frozen Deep Dish Pie Shell, thawed
1-3/4 cups (425 mL) Fresh blueberries
1 tsp (5 mL) Lemon zest
1 tsp (5 mL) Vanilla extract
1 tsp (5 mL) Lemon juice
1 tsp (5 mL) Cinnamon
1 tbsp (15 mL) All purpose flour
1/4 cup (50 mL) Granulated sugar
Pinch of salt
1 Egg, lightly beaten, optional
2 tsp (10 mL) Coarse or demerara sugar, optional
directions
PREHEAT oven to 375°F (190°C).
REMOVE pie shell from freezer and allow to thaw at room temperature for 10 - 15 minutes.
COMBINE blueberries, zest, juice and vanilla in a bowl. Add cinnamon, flour and granulated sugar and toss lightly to combine. Set aside.
REMOVE pie shell from foil plate and place on large sheet of parchment paper. Roll out pie shell to approximately 10-10-1/2 inches (25-26 cm) in diameter. Edge can be uneven. Slide pie shell and paper onto a large flat baking sheet; pastry may hang over edge of sheet.
SPOON blueberry mixture into centre of pastry, leaving a 3-inch (8 cm) pastry edge. Fold pastry edge up and over fruit mixture, overlapping edges as required, leaving centre of pie uncovered. Trim excess parchment paper around edge of pie to prevent burning.
BRUSH pastry with beaten egg and sprinkle pastry and fruit filling with coarse sugar, if using.
BAKE on lowest shelf of preheated oven for 30 minutes or until fruit is bubbling and pastry is golden brown. Allow to stand for 5 minutes before serving. Pie is best served warm the day it is made.
Tips
Bake pie without egg wash and coarse sugar. Dust, cooled pie with icing sugar and serve with ice cream or whipped cream.
Make individual galette tarts: Use 2 pie shells to make 6 tarts. After rolling out pie shells cut 3 circles, from each shell, using a 4-1/2 inch (11 cm) round cutter. Divide the blueberry mixture equally between the 6 pastry rounds. Assemble and bake the tarts according to the large galette directions.