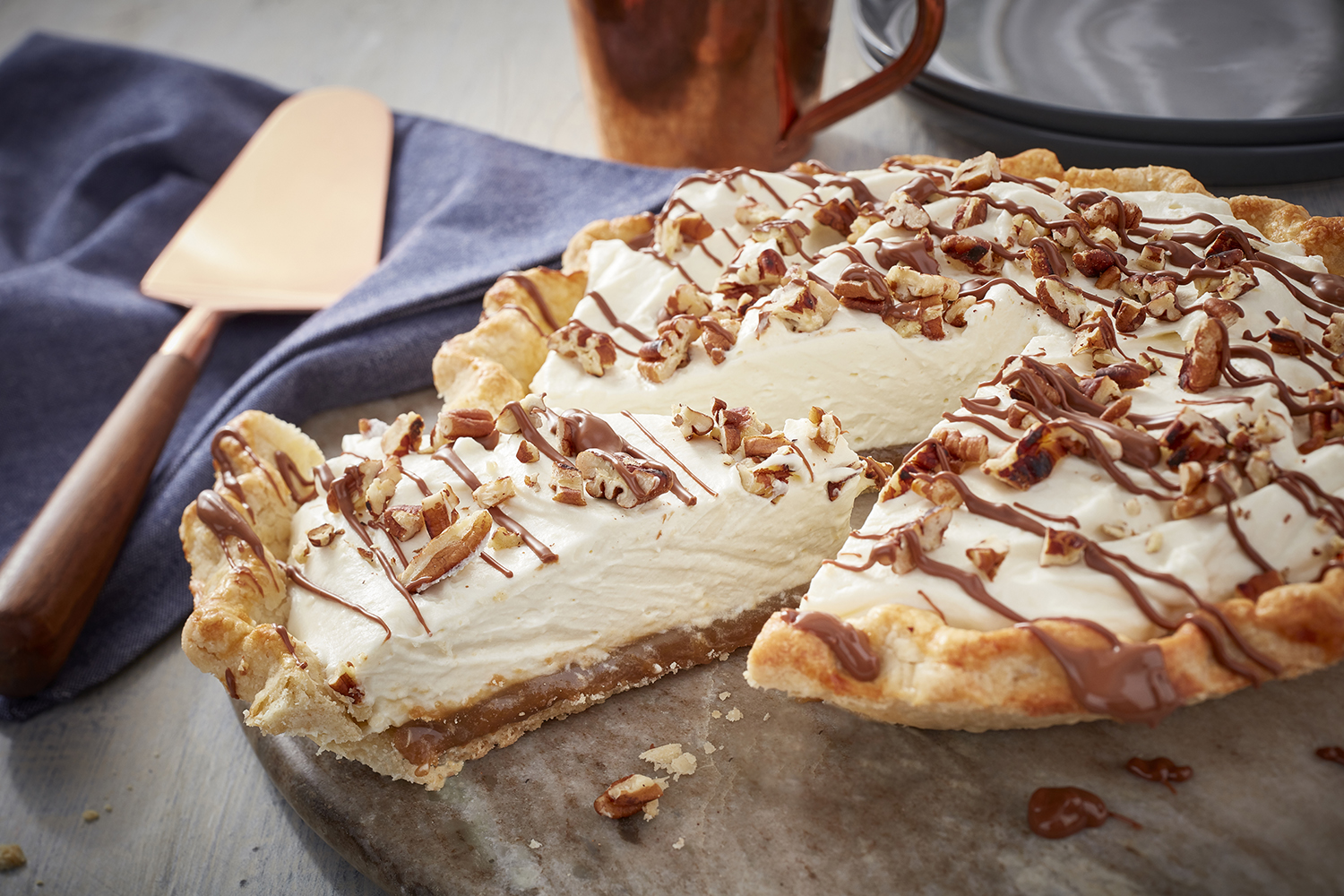 Bourbon Butterscotch Pecan Cheesecake
SERVES:

8

PREP TIME:

5

minutes
BAKE TIME:

20

minutes
TOTAL TIME:

205

minutes
ingredients
1 Tenderflake® Regular Pie Shell
3 tbsp. (45 ml) unsalted butter
3 tbsp. (45 ml) all-purpose flour
¾ cup (177 ml) brown sugar
¼ cup (60 ml) heavy cream
2 tsp. (10 ml) Madagascar bourbon vanilla
1 tbsp. (15 ml) bourbon (optional)
½ cup (125 ml) condensed milk
1 tsp. (5 ml) lemon juice
1 pkg. (250g) softened cream cheese
½ cup (125 ml) whipping cream
¼ cup (60 ml) toasted pecans
¼ cup (60 ml) milk chocolate, melted
directions
Bake pie shell according to package instructions.
Warm a small sauce pan on medium heat. Melt butter with sugar, 3 minutes. Whisk in flour. Gently pour in cream, vanilla and bourbon (optional). Whisk until smooth and thickened, approximately 5 minutes. Pour into baked pie shell and refrigerate for 10 minutes.
In a large mixing bowl use a hand mixer on a low setting, cream together condensed milk, lemon juice and cream cheese until smooth.
In another medium sized bowl, whip heavy cream until stiff peaks form. Remove the pie shell from the refrigerator. Fold whipped cream into cheese mixture and spread over chilled butterscotch. Refrigerate pie up to 3 hours - or overnight for the best results. Garnish with pecan pieces and drizzle with chocolate before serving.