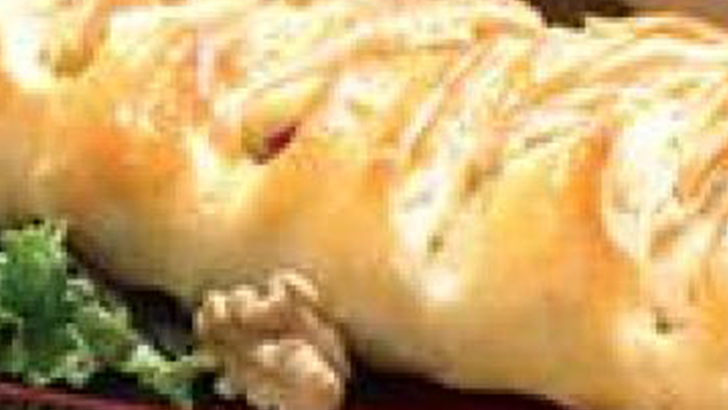 Brie, Pear And Walnut Braid
PREP TIME:

30

minutes
BAKE TIME:

20

minutes
TOTAL TIME:

50

minutes
ingredients
0.5 Package Tenderflake® Puff Pastry, defrosted overnight in refrigerator
15 ml Olive oil
5 ml Unsalted butter
1 Onion, sliced
5 ml Sugar
50 ml Chopped walnuts
30 ml Chopped dried cranberries
1 Egg, beaten
15 ml Water
10 ml Dijon mustard
112 g Brie cheese, thinly sliced
1 Pear, peeled and thinly sliced
directions
PREHEAT oven to 450°F (230°C).
HEAT oil and butter in a large fry pan over medium heat. Add onion and sugar and cook, stirring occasionally, for 20 to 30 minutes or until caramelized and golden brown. Stir in walnuts and cranberries. Remove from heat and set aside. WHISK together egg and water in a small bowl and set aside.
ROLL out pastry on a lightly floured surface into 12" x 9" (30 cm x 22 cm) rectangle. Place pastry onto a parchment lined baking sheet.
SPREAD mustard along the middle third of the pastry. Spoon onion mixture over mustard. Top with the Brie and pear slices.
CUT 1-inch (2.5 cm) wide strips on either side of the filling. Fold strips on each side alternately over filling to create a braid. Brush pastry with egg mixture.
BAKE for 20 to 25 minutes or until pastry is golden and pears are tender.
REMOVE baking sheet from oven and let cool slightly. Cut into 8 pieces.