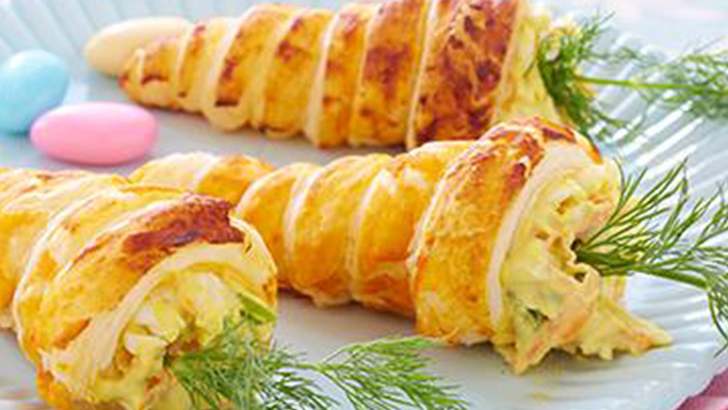 PREP TIME:

20

minutes
BAKE TIME:

20

minutes
TOTAL TIME:

40

minutes
ingredients
1 Package (397 g) Tenderflake® Frozen Puff Pastry, defrosted
¼ cup (60 mL) Carrot juice
2 tbsp (30 mL) Tomato paste
10 Hard boiled eggs, peeled
¼ cup (60 mL) Mayonnaise
1 Carrot, grated
2 Green onions, finely chopped
Dash of hot sauce
30 Sprigs of dill
Special Equipment: Cream Horn Moulds
directions
PREHEAT oven to 400°F (200°C).
Cut puff pastry in half. Place each half of pastry on a lightly floured surface and using a lightly floured rolling pin, roll each to a 9 œ" x16" (25×40 cm) rectangle. Using a pizza cutter or very sharp knife, cut pasty into œ" (1 cm) strips. Wrap each strip, slightly overlapping around a 4" (8 cm) cream horn mould. Gently press in the end to secure.
MIX carrot juice and tomato paste. Brush each pastry with mixture and place, seam-side down on a parchment paper lined baking tray.
BAKE in the preheated oven for 20 minutes. Remove from the oven and let cool slightly. Carefully remove from horn moulds. Set aside.
GRATE the hard-boiled eggs using a box grater; mix in mayonnaise, carrot, green onion and hot sauce. Season with salt and pepper. Gently stuff or pipe (using a piping bag) each cooled carrot form with egg salad and place a sprig of dill on top of each one to resemble carrot tops.
Notes
If you can't find cream horns, try making your own using heavy-duty aluminum foil wrapped around Bristol board as a mould. Bake in batches if you don't have enough moulds.