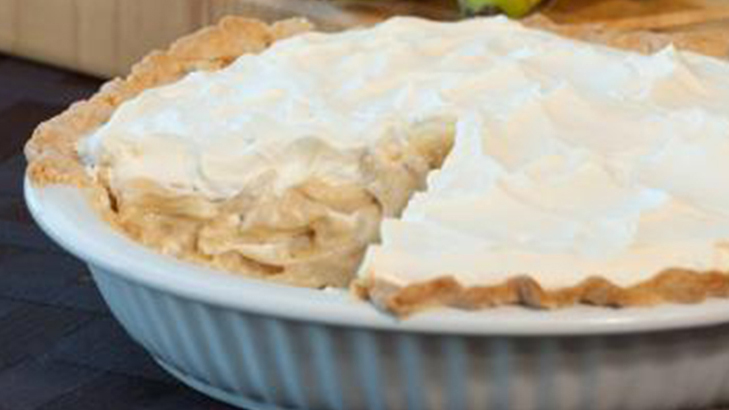 Butterscotch Banana Cream Pie
PREP TIME:

10

minutes
BAKE TIME:

10

minutes
TOTAL TIME:

20

minutes
ingredients
1 Tenderflake® Frozen Deep Dish Pie Shell, defrosted
1 cup (250 mL) Firmly packed brown sugar
1/4 cup (60 mL) Cornstarch
2 1/2 cups (625 mL) Milk
2 Egg yolks
1 tbsp (15 mL) Butter
1/2 tsp (2 mL) Vanilla
2 Bananas, sliced
1/2 cup (125 mL) Nutriwhip® Whipped Topping, whipped
directions
BAKE pie shell according to package directions.
COMBINE brown sugar and cornstarch in a heavy saucepan. Beat œ cup (125 mL) of milk with the egg yolks and add to the remaining milk. Stir into sugar mixture in saucepan.
HEAT over medium heat, stirring constantly until the mixture becomes thick and smooth, about 5 minutes. Remove from heat and stir in butter and vanilla. Place plastic wrap directly on the surface and allow to cool.
POUR butterscotch mixture into the baked pie shell. Cool completely and arrange banana slices in overlapping circles on top of the filling. Cover with whipped topping.