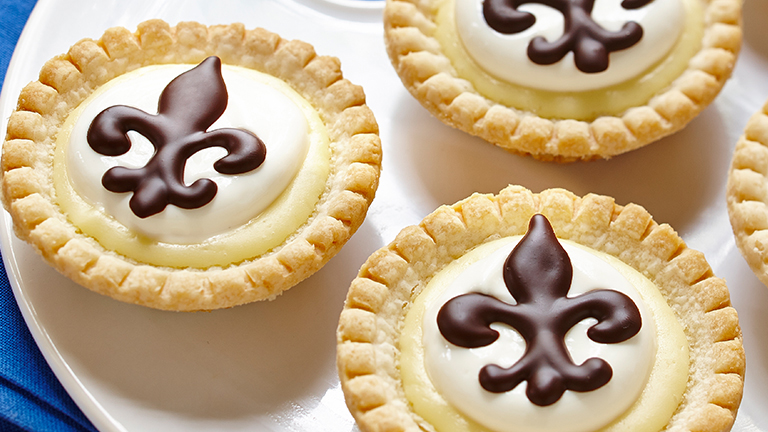 Cheesecake Tarts with Sour Cream Topping and Chocolate Fleur de Lis
PREP TIME:

15

minutes
BAKE TIME:

15

minutes
TOTAL TIME:

30

minutes
ingredients
2 Packages TENDERFLAKE® Frozen Tart Shells
2 pkgs (250 g each) cream cheese
½ cup (125 mL) granulated sugar
1 tbsp (15 mL) pure vanilla
2 eggs
1/2 cup (125 mL) chopped dark chocolate
1 tbsp (15 mL) butter
1/2 cup (125 mL) sour cream
1 tbsp (15 mL) confectioner's sugar
1 tbsp (15 mL) pure vanilla
directions
Arrange tart shells on rimmed baking sheet and bake according to package instructions. Let cool.
Beat cream cheese, sugar and vanilla with mixer until blended. Add eggs, 1 at a time, mixing on low speed after each just until blended. Spoon over tart shells
Bake 15 min. or until centers are almost set. Cool completely. Refrigerate 2 hours.
In bowl, heat chocolate with butter until smooth. Pipe into 24 Fleur de Lis shapes onto parchment and let cool completely.
Whisk together sour cream with sugar and vanilla and spoon over tarts. Top each with a chocolate Fleur de Lis.