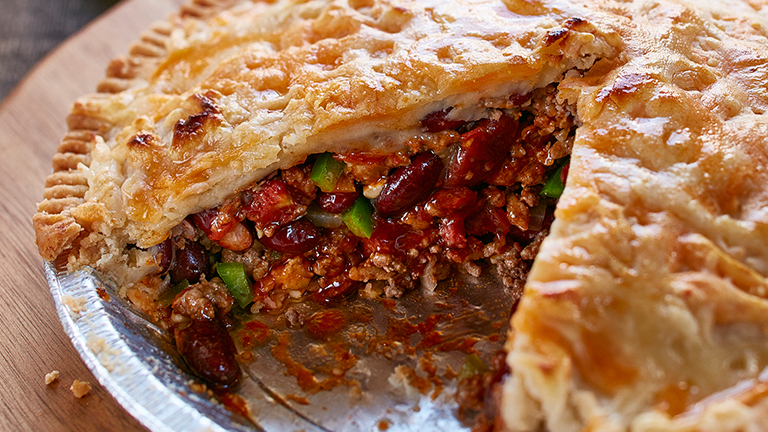 PREP TIME:

30

minutes
BAKE TIME:

30

minutes
TOTAL TIME:

60

minutes
ingredients
2 TENDERFLAKE® Deep Dish Frozen Pie Shells
15 ml Olive oil
500 g Extra lean ground beef
15 ml Chili powder
5 ml Cumin
1 Clove garlic, chopped
125 ml Finely diced green pepper
125 ml Finely diced onion
45 ml Flour
398 ml Can chopped tomatoes
540 ml Can kidney beans, drained and rinsed
175 ml Shredded Tex Mex cheese, divided
Salt and Pepper to Taste
directions
PREHEAT oven to 400°F (200°C). Bake one pie shell according to package directions for a baked pie shell. Remove from oven and set aside to cool slightly. Allow second pie shell to defrost at room temperature.
HEAT oil in a large non-stick skillet over medium -high heat. Add beef and break apart with a wooden spoon. Cook until beef is no longer pink. Drain, if necessary, and return to pan.
ADD chili powder, cumin, garlic, pepper, onion and flour. Stir to combine and cook for 1 to 2 minutes. Add tomatoes, kidney beans, salt and pepper and cook for 3 to 5 minutes. Mixture will be thick.
FILL baked pie shell with chili mixture and top with Œ cup (50 mL) shredded cheese. Carefully remove thawed pie shell from foil and place on top of chili, pressing down gently. It may crack slightly at the edges. Pinch or flute edge to seal top and bottom crust. Sprinkle with remaining œ cup (125 mL) shredded cheese. Cut several slits in top crust to allow steam to escape.
PLACE on baking sheet and bake in preheated oven for 20 to 25 minutes or until cheese is melted and pastry is golden brown.
REMOVE from oven and allow to stand for 5 minutes before cutting. Serve with your favourite Mexican toppings on the side.