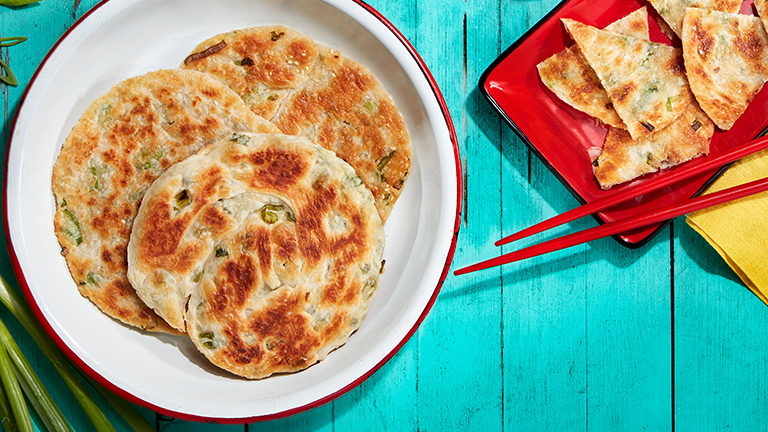 Chinese Scallion Pancakes
SERVES:

4

PREP TIME:

15

minutes
BAKE TIME:

15

minutes
TOTAL TIME:

30

minutes
ingredients
1/2 Pkg (397 g) Package Tenderflake® Puff Pastry
1 bunch green onions, chopped (one onion reserved for dipping sauce)
2 Tbsp. (30ml) toasted sesame seeds
1 Tbsp. (15ml) sesame oil
½ tsp (2.5ml) kosher salt
2 Tbsp. (30ml) vegetable oil
Flour for dusting
||
Dipping Sauce
2 Tbsp. (30ml) soy sauce
1 green onion, thinly sliced
1 Tbsp. (15ml) water
2 tsp (10ml) rice vinegar
1 tsp (5ml) honey
1 tsp (5ml) toasted sesame oil
Pinch red pepper flakes
directions
Thaw puff pastry according to package instructions.
Roll out dough on a lightly floured surface into a 9"x12" rectangle. Lightly brush with sesame oil, then sprinkle it evenly with the chopped scallions, sesame seeds and kosher salt.
Cut into 4 quarters. Starting from the bottom of one square, roll the dough up tightly into a rope of dough. Repeat with the 3 other squares.
Take one of these ropes and coil into a circle like a cinnamon bun. Repeat this process with the 3 remaining ropes.
Lightly dust dough circles with flour. Using a rolling pin, flatten each coil of dough into a pancake, about 4 inches wide.
Heat a medium skillet pan over medium low heat, add a drizzle of vegetable oil. Lay the pancake gently in the pan and cover pan with a lid. Cook for 2 mins per side. Remove lid and cook for another 1 minute on each side.
For the dipping sauce, place all the ingredients in a bowl and whisk together. Cut pancakes into wedges and serve with dipping sauce.
Tips: *This recipe was previously made with Tenderflake® Rolled Puff Pastry Sheets and has been reformatted for the Puff Pastry Block.