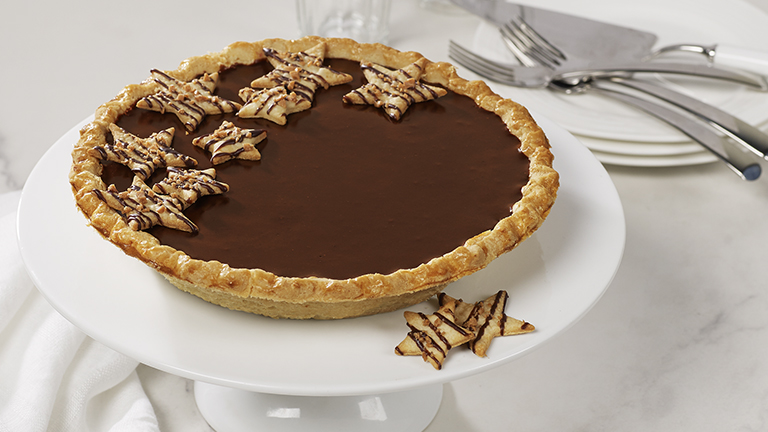 SERVES:

8

PREP TIME:

10

minutes
BAKE TIME:

20

minutes
TOTAL TIME:

270

minutes
ingredients
1 box Tenderflake® Regular Pie Shells
1/4 cup (60 mL) butter
60 vanilla caramel squares
1 1/4 cup (300 mL) 35% whipping cream, divided
1 cup (250 mL) semi-sweet chocolate chips
1/4 cup (60 mL) toffee bits
directions
Preheat oven to 400°F (205°C). Prick bottom and sides of one thawed pie shell with a fork. Bake for 8-10 min. (If the pie shell puffs during baking, re-prick and continue to bake. Let cool completely.
Meanwhile, flatten the second thawed crust and cut into shapes with your favourite cookie cutters. Bake on a parchment lined baking sheet until golden and crisp, about 8-10 min. Let cool completely.
In saucepan, combine butter, caramel squares and 1/4 cup of the whipping cream. Heat over medium heat, stirring often, about 4 min. Pour into crust; let cool for one hour.
In another saucepan, combine chocolate chips and remaining whipping cream, heat over medium heat and stir until smooth, about 2 minutes.
Drizzle about 1/4 cup of melted chocolate over cut pastry pieces and top with toffee bits.
Pour remaining chocolate over caramel filling and let cool completely. Chill in the refrigerator until set, at least 4 hours and up to 2 days. Top with pastry pieces before serving.