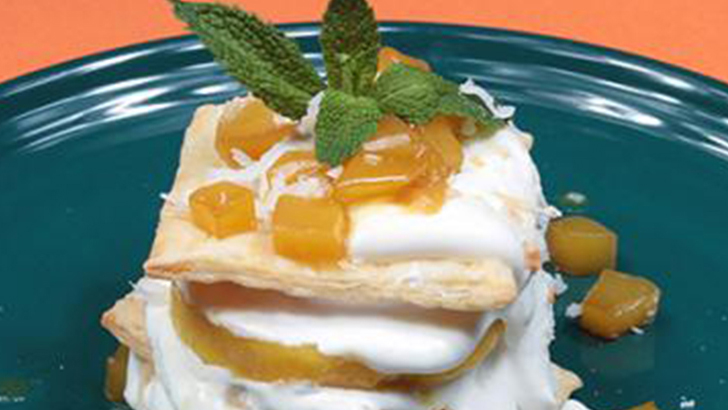 PREP TIME:

45

minutes
BAKE TIME:

20

minutes
TOTAL TIME:

65

minutes
ingredients
1 tbsp (15 mL) Butter
1 Large mango, diced
.25 cup (60 mL) Brown sugar
.5 cup (125 mL) Water
Salt
.5 (397 g) Package Tenderflake® Puff Pastry, thawed
2 tbsp (30 mL) Melted butter or coconut oil
1 tbsp (15 mL) Coarse sugar
1 cup (250 mL) Sweetened flaked coconut, toasted
1 (200 mL) Container frozen mango sorbet
.5 cup (125 mL) Whipping cream (35%)
1 tbsp (15 mL) White sugar
Mint leaves
directions
PREHEAT oven to 375°F (190°C).
HEAT butter in a small saucepan over medium-high heat. Stir in mango and cook 1-2 minutes or until it begins to soften. Add sugar and water. Stir to combine. Reduce heat to low and simmer for 10-15 minutes or until liquid is almost completely reduced. Season with a pinch of salt.
ROLL out puff pastry on a lightly floured surface to 1/8 inch (3 mm) thick. Place on a parchment lined baking sheet and freeze for 5-10 minutes. Cut into twelve 3 inch (7.5 cm) squares. Mark a border around the outside of each square by scoring pastry with a sharp paring knife. Bake in preheated oven for 15-16 minutes or until pastry is golden brown. Remove from oven, brush with melted butter and sprinkle with coarse sugar. Set aside to cool.
COMBINE whipping cream and sugar in a cold bowl and beat to soft peaks using a hand mixer. Set aside.
RUN hot water over the outside of the sorbet container to soften slightly. Turn sorbet out of the container onto a cutting board. Working quickly, cut sorbet into eight œ inch (1 cm) thick slices. Trim slices to 3 inches (7.5 cm) in diameter. Place onto a parchment lined baking sheet and freeze for 10 minutes.
ASSEMBLE napoleons by placing 1 pastry square in the middle of a serving plate followed by a wedge of sorbet, a dollop of whipped cream and a sprinkle of toasted coconut. Add a 2nd pastry square, sorbet, whipped cream and another sprinkle of coconut. Finish with a 3rd pastry square, dollop of whipped cream, a heaping spoonful of caramelized mangoes and a sprig of mint. Repeat and make 3 additional Napoleons. Sprinkle any remaining coconut around each dessert.