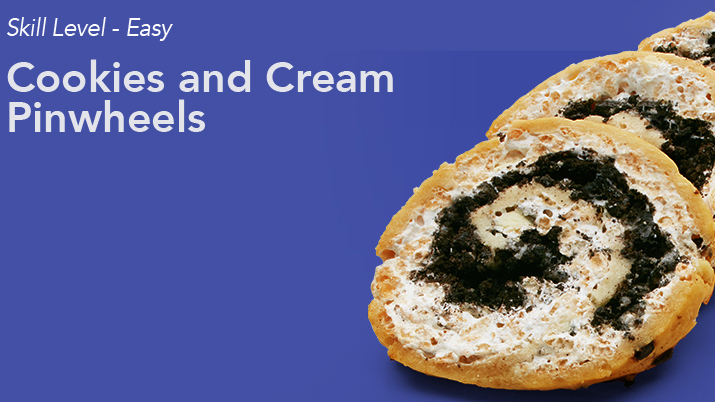 Cookies and Cream Pinwheels
SERVES:

12

PREP TIME:

15

minutes
BAKE TIME:

10

minutes
TOTAL TIME:

25

minutes
ingredients
1 Tenderflake® Deep Dish Pie Shell thawed
1 cup (250 mL) of Vanilla Rice Puffed Cereal
1 cup (250 mL) of Mini Cream filled chocolate cookies chopped into pieces
1 cup (250 mL) of Marshmallow fluff
¼ cup (60 mL) of white chocolate chips
directions
Pre-heat oven to 350F. (176C). Line a baking tray with parchment paper.
In a large mixing bowl stir together cereal, marshmallow fluff and chocolate chips until fully combined.
Remove pie from the foil pie plate and place onto a lightly floured surface; use a lightly floured rolling pin to flatten pastry.
Evenly spread cereal mixture onto pastry. Sprinkle cookies over top. Starting from the side closest to you, begin rolling pastry tightly into a cylindrical tube. Chill in the freezer for 5 minutes.
Using a serrated knife cut the log into œ inch rounds. Transfer rounds to lined baking tray.
Bake for 10-15 minutes until edges are lightly golden. Let rest for 5 minutes and transfer cookies to a cooling rack.
Tips: *Tip use wet hands to keep cereal from sticking to hands.