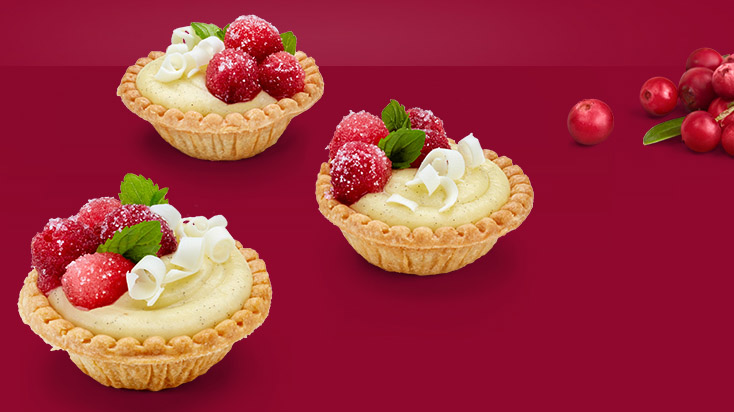 Cranberry Vanilla Custard Tarts
SERVES:

12

PREP TIME:

10

minutes
BAKE TIME:

25

minutes
TOTAL TIME:

35

minutes
ingredients
Cranberry Vanilla Custard Tarts
1 box Tenderflake® Tart Shells
2/3 cup (170 mL) fine sugar
4 egg yolks
3 tbsp. (45 mL) cornstarch
3 cups (750 mL) heavy cream
1 cup (250 mL) whole milk
1 vanilla bean
White chocolate curls
Mint leaves
||
Sugared Cranberries
1 cup (250 mL) sugar
1/3 cup (85 mL) water
1/2 cup (125 mL) cranberries
directions
Bake shells according to package instructions. Set aside.
In a medium sized bowl, whisk together sugar, cornstarch, and egg yolks.
In a large saucepan over medium high heat, add milk and cream. Split vanilla bean down the center and run the knife along the inside of the bean to remove vanilla seeds; add bean and seeds to milk. Bring milk to a gentle simmer, roughly 5 minutes. Remove vanilla bean.
Whisking continuously, slowly add warmed milk into egg mixture. Return mixture to the saucepan and cook over medium-high heat. Whisk until thickened and custard coats the back of a spoon, roughly 5-7 minutes. Pour custard into a medium sized bowl, cover and cool completely.
Using a piping bag generously fill each tart shell with custard. Garnish with 3 -4 sugared cranberries, white chocolate shavings and fresh mint leaves.
Tips: Sugared Cranberries
In a small saucepan, over medium high heat, melt 1/2 cup sugar with 1/3 cup water until thickened, for 8 minutes. Remove from heat and stir in and coat cranberries.
Using a slotted spoon remove cranberries and transfer to a parchment lined baking tray. Pour reserved sugar over cranberries, use a spoon to coat roll and coat cranberries.