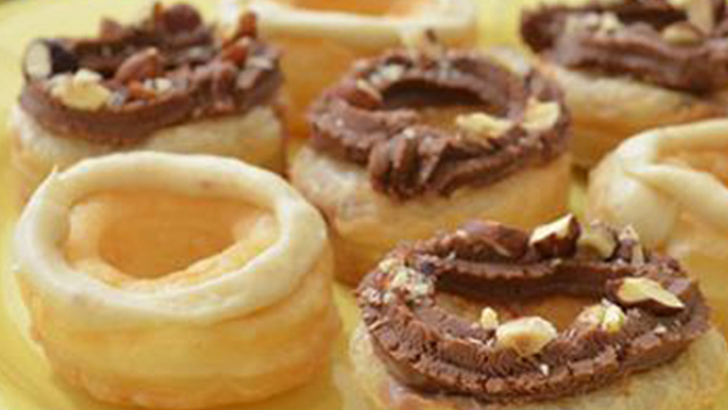 Flakey Maple And Chocolate Hazelnut "Doughnuts"
PREP TIME:

20

minutes
BAKE TIME:

30

minutes
TOTAL TIME:

50

minutes
ingredients
2 (397 g) Packages Tenderflake® Frozen Puff Pastry, defrosted
1 (3.4 oz/96 g) Package instant vanilla pudding mix
2.5 cups 625 mL) plus 3 tsp (15 mL) Milk, divided
.75 (175 mL) Chocolate hazelnut spread, divided
.25 tsp 1 mL) Maple extract
.5 cup (125 mL) Butter, softened, divided
1.5 cups (375 mL) Icing sugar, divided
1.5 tbsp (22 mL) Maple syrup
.25 cup (60 mL) Chopped hazelnuts Oil for frying
directions
REMOVE the two pieces of pastry from the package; place one on top of the other on a lightly floured work surface. Using a lightly floured rolling pin, roll the double pastry to a 12"x12" (30×30 cm) square. Fold in half, then in half again and roll to a 12"x12" (30×30 cm) square again.
CUT rounds from the pastry using a 3" (8 cm) round cutter. Using a 1" (3 cm) round cutter, cut a hole in the middle of each.
PLACE the pastry on a parchment paper lined baking sheet and set in the refrigerator to chill. Repeat with the second package of pastry.
HEAT 2 Œ" (6 cm) of oil in a large deep pot or skillet to 350°F (175°C). Working in batches, carefully place the pastry into the hot oil. Do not overcrowd or the temperature of oil will drop. Fry for 3 minutes per side or until golden brown. Using a slotted spoon or tongs remove from the oil and place on a cooling rack lined with paper towel.
PREPARE the instant vanilla pudding using œ cup (125 mL) more milk than the package instructions call for. Divide the pudding between two bowls. To one of the bowls, add Œ cup (60 mL) of the chocolate hazelnut spread, stir to combine. To the second bowl of vanilla pudding, add maple extract, stir to combine. Set both bowls aside.
MIX together the remaining chocolate hazelnut spread with Πcup (60 mL) butter and ٠cup (175 mL) icing sugar in a small bowl. In another small bowl mix maple syrup, the remaining Πcup (60 mL) butter and ٠cup (175 mL) icing sugar. If either of these frosting mixtures is too thick, add a tsp (5 mL) of milk at a time to reach the desired consistency.
FILL a piping bag or squeeze bottle with filling mixture. Make sure to have a long narrow tip attached. Gently insert the tip into the edge of the pastry and squeeze in the filling. Fill half the pastries with maple filling and half with chocolate hazelnut filling.
DRIZZLE, spread or pipe a line of frosting around the hole in the centre of each "doughnut". Frost the vanilla maple filled pastries with the maple frosting and the chocolate hazelnut with chocolate hazelnut frosting. Sprinkle the top of the hazelnut frosting with chopped hazelnuts.