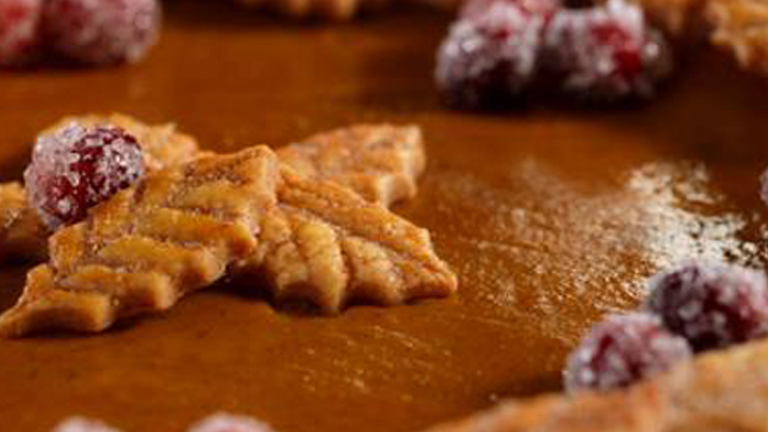 PREP TIME:

15

minutes
BAKE TIME:

60

minutes
TOTAL TIME:

75

minutes
ingredients
2 TENDERFLAKE® Frozen Deep Dish Pie Shells
.75 cup (175 mL) Lightly packed brown sugar
.5 tsp (2 mL) Salt 1 tsp (5 mL) Cinnamon
.25 tsp (1 mL) Nutmeg
.25 tsp (1 mL) Ginger
2 Eggs, lightly beaten
1.5 cups (375 mL) Canned pure pumpkin (not pumpkin pie filling)
1.5 (375 mL) Light (5%) cream
12 Fresh cranberries
2 tsp (10 mL) Corn syrup
1 tbsp (15 mL) Sugar
directions
PREHEAT oven to 450°F (230°C). Remove pie shells from freezer and allow to thaw at room temperature for 15 minutes.
REMOVE one pie shell from foil onto a clean, flat, lightly floured work surface. If cracks appear in pastry, press together and repair using fingers moistened with water.
CUT out small Thanksgiving or Christmas holiday shapes using a small cookie cutter. Transfer to a parchment lined baking sheet and set aside.
MIX together brown sugar, salt and spices in a large bowl. Stir in remaining filling ingredients and beat until smooth.
POUR into remaining unbaked pie shell.
BAKE pie and pastry cut outs in preheated oven for 10 minutes. Reduce temperature to 350ºF (180ºC) and continue baking cut outs for an additional 5 minutes or until golden brown. Continue baking pie for 40 to 45 minutes or until knife inserted in the centre of the pie comes out clean.
REMOVE pie from oven and allow to cool.
TOSS cranberries in corn syrup until all sides are coated then roll in sugar.
TOP cooled pie with pastry cut outs and sugared cranberries just before serving.