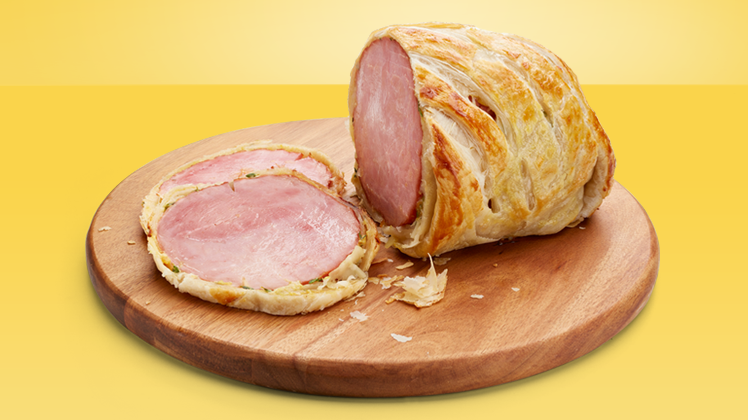 SERVES:

4

PREP TIME:

10

minutes
BAKE TIME:

40

minutes
TOTAL TIME:

0

minutes
ingredients
1/2 (397g) Package Tenderflake® Puff Pastry, thawed
2 tbsp (30 mL) Honey mustard
1/2 cup (125 mL) Swiss cheese, grated
2 tsp (10 mL) Fresh thyme, chopped
1 Egg yolk
1 tbsp (15 mL) Water
1 Small cooked ham (about 1 ½ lbs (700g)
directions
PREHEAT oven to 400°F (200°C)
ROLL out puff pastry into approximately a 12-inch (30 cm) square and place on a parchment lined baking sheet. Spread pastry with mustard and sprinkle with cheese and thyme. Refrigerate for 10 minutes.
WHISK egg yolk and water in a small bowl.
PLACE the ham in the center of the puff pastry.
BRUSH edges of pastry with beaten egg and wrap ham in pastry by folding each corner around the ham. Turn ham over so that the seams are facing down. Lightly brush pastry all over with remaining egg and gently score in a diagonal pattern being careful not to go all the way through the pastry.
BAKE in preheated oven for 20 to 25 minutes or until pastry is golden brown and ham is heated through.