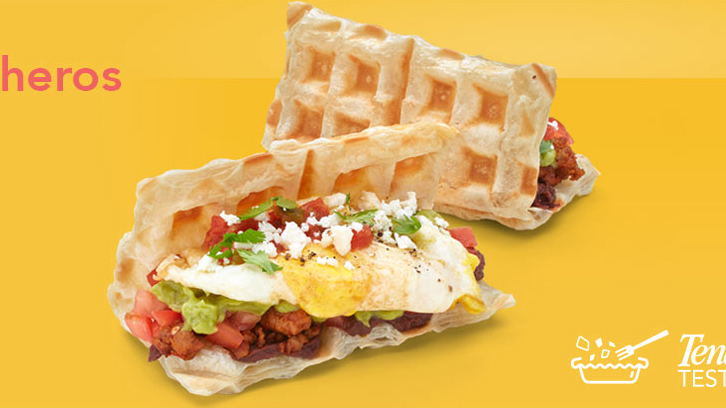 ,
SERVES:

4

PREP TIME:

10

minutes
BAKE TIME:

20

minutes
TOTAL TIME:

30

minutes
ingredients
½ pkg. Tenderfalke® Puff pastry
2 Fresh chorizo sausages - casings removed
½ tsp. (2 mL) Chili powder
4 large eggs
4 tsp. (20 mL) unsalted butter
4 tbsp. (60 mL) Refried black beans
¼ cup (60 mL) pre-made guacamole
1 medium sized tomato finely diced
4 tbsp. (60 mL) Feta Cheese crumbled
4 tsp. (20 mL) Salsa Verde
4 tsp. (20 mL) Fresh Salsa
4 tbsp. (60 mL) Cilantro chopped
directions
Pre-heat waffle iron to medium high heat.
Roll out pastry into a 12-x12 inch square. Slice pastry creating 4 equal 6 x 6 inch squares.
Working in single batches, place 1 square of pastry in the center of waffle maker. Cook for 5-6 minutes until puffed and golden brown. Gently remove waffle and while the waffle is still warm, using the center crease as a guideline, fold waffle in half creating a taco shape. Hold waffle in this position for one to two minutes until shape is set. Continue with remaining pastry squares.
In a small fry pan over medium high heat, cook chorizo sausage and chili powder for 8 -10 minutes.
In another small fry pan, working in batches, melt 1 tsp. butter and fry one egg for 2 minutes. Gently flip egg and fold in half, cook for one minute. Repeat with remaining eggs.
Spread each taco with 1 tbsp. beans, chorizo, diced tomatoes, guacamole, fried egg, salsa Verde, feta, salsa and cilantro. Serve warm and enjoy.