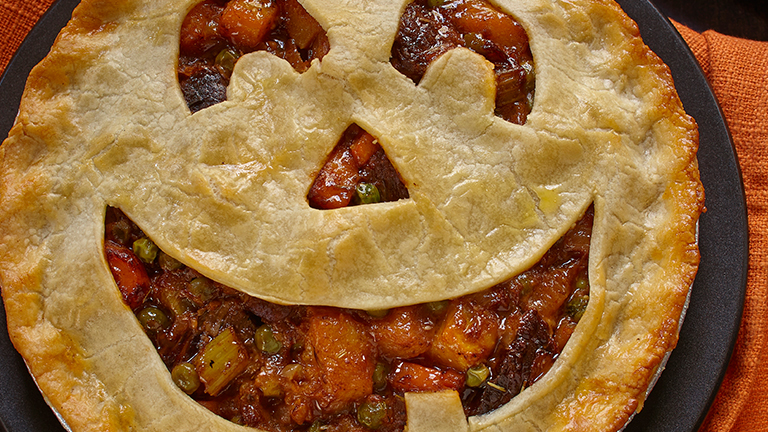 Jack O' Lantern Beef Pot Pie
PREP TIME:

30

minutes
BAKE TIME:

120

minutes
TOTAL TIME:

150

minutes
ingredients
1 Tenderflake® Frozen Deep Dish Pie Shell, defrosted
1-2 tbsp (15-30 mL) Vegetable oil
3 lbs (1.4 kg) Stewing beef
½ cup (125 mL) Flour
½ tsp (2 mL) Salt
½ tsp (2 mL) Pepper
1 Onion, chopped
2 Cloves garlic, minced
1 Rib celery, chopped
1 Carrot, chopped
1 tbsp (15 mL) Tomato paste
2 cups (500 mL) Diced cooking pumpkin or butternut squash
3 cups (750 mL) Beef broth
1 ½ cups (375 mL) Frozen peas
1 tbsp (15 mL) Chopped fresh herbs (rosemary, thyme, oregano)
1 tbsp (15 mL) Red wine vinegar
1 Egg, beaten
directions
REMOVE pie shell from the foil tray and transfer to a lightly floured work surface. Using a paring knife, cut out a jack o' lantern face. Use leftover bits to make a pumpkin stem. Set aside until ready to use.
SEASON flour with salt and pepper. Heat oil in a Dutch oven over medium-high heat. Working in batches, dredge beef in flour then cook in oil until brown on all sides. Remove from the pan with a slotted spoon and set aside. Add additional oil if needed. Sauté onions, garlic, celery, and carrots over medium heat. Cook for 3-4 minutes or until soft. Add tomato paste and cook for another minute, stirring until well mixed. Add beef back to the pot along with pumpkin or squash. Pour in beef broth and reduce heat to low. Simmer covered for 1 hour 30 minutes or until beef is very tender. Stir in peas, herbs and red wine vinegar. Adjust seasoning to taste.
PREHEAT oven to 400°F (200°C). Spoon stew into a 9" (23 cm) deep-dish pie plate. Top with jack o' lantern pastry. Brush lightly with egg wash and attach the stem to the edge. Bake for 20-25 minutes or until the top is golden brown.