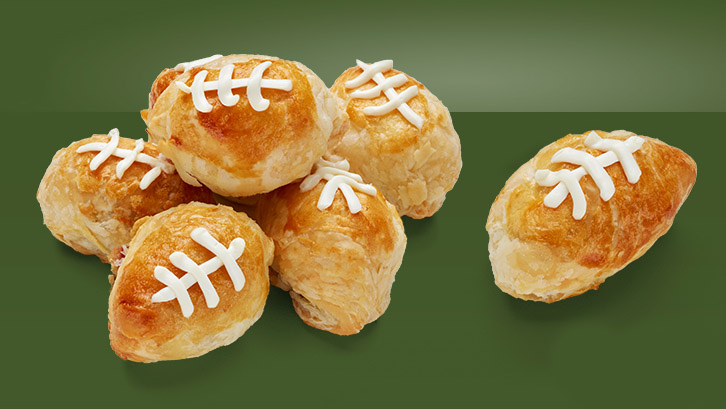 SERVES:

48

PREP TIME:

20

minutes
BAKE TIME:

15

minutes
TOTAL TIME:

35

minutes
ingredients
1 pkg. Tenderflake® Puff Pastry
1/2 cup (125 g) & 3 tbsp. (45 mL) plain cream cheese room temperature
1/2 cup (125 mL) pre-cooked double smoked bacon, finely chopped
1/4 cup (60 mL) cilantro, finely chopped
1/4 cup (60 mL) parsley, finely chopped
1/4 cup (60 mL) chives, finely chopped
1 clove of garlic minced
4 jalapenos, seeded and finely chopped
Salt and pepper to taste
3 tbsp. (45 mL) flour
directions
Thaw pastry according to package instructions. Preheat oven to 400°F. Line 2 baking trays with parchment paper and set aside.
In a medium sized bowl, stir together 1/2 cup cream cheese, bacon, herbs, garlic and jalapenos; season with salt and pepper to taste.
Dust your work surface with flour, roll out first pastry block into a 9 x 9-inch square. Cut pastry into 12, 3x 3-inch squares. Cut each square on a diagonal into triangles.
Fill the center of each triangle with 1 tsp. of jalapeno mixture. Starting from the top of the triangle, fold pastry over filling and fold sides towards the center. Close and seal any holes in the pastry. Pinch sides to create a football shape. Transfer to lined tray.
Bake for 12-15 minutes until puffed and golden. Repeat steps with second pastry block while pastry is baking.
Warm 3 tbsp. cream cheese and pipe laces onto baked pastry. Serve warm and enjoy!