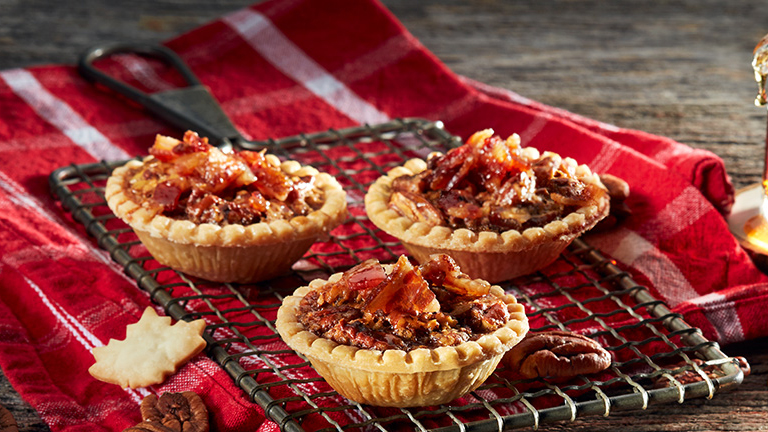 SERVES:

12

PREP TIME:

25

minutes
BAKE TIME:

35

minutes
TOTAL TIME:

60

minutes
ingredients
1 box Tenderflake® Tart Shells
¼ cup (60 mL) butter, melted
½ cup (125 mL) brown sugar
½ cup (125 mL) maple syrup
¼ tsp. (1.25 mL) maple extract
2 eggs
½ cup (125 mL) pecans, chopped
Pinch of salt
4 bacon slices
directions
Thaw tart shells according to package instructions.
Preheat oven to 325°F. Line a baking tray with parchment paper and set aside.
Lay bacon slices onto parchment lined baking tray and pour Πcup (60 mL) maple syrup over slices. Bake for 15-18 minutes or until browned. Cool completely, chop and set aside.
In a medium-sized bowl, whisk together melted butter, brown sugar, maple syrup, maple extract, pinch of salt and eggs until combined. Stir in pecans and fill each tart shell with the mixture.
Increase oven temperature to 350°F. Bake tarts for 12-15 minutes or until golden brown.
Top each tart with chopped bacon pieces. Serve warm.