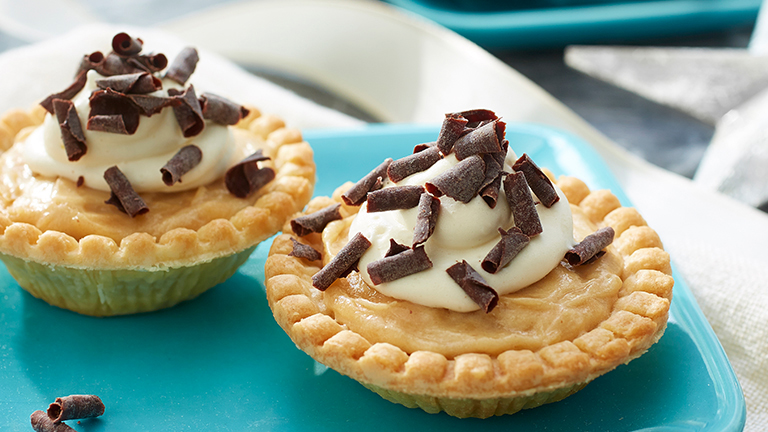 SERVES:

24

PREP TIME:

5

minutes
BAKE TIME:

25

minutes
TOTAL TIME:

30

minutes
ingredients
24 Tenderflake® 3-inch Tart Shells (2 packages)
3 oz (85g) best-quality dark chocolate, finely chopped (plus more for curls)
1 cup (125 mL) heavy cream, divided
3/4 cup (180 mL) creamy peanut butter
4oz (125 g) cream cheese
1/3 cup (75 mL) sweetened condensed milk
¼ cup (60 mL) chocolate curls
directions
Directives
Bake Tenderflake® tart shells according to package instructions. Transfer to a wire rack and cool completely.
Chop chocolate and place in a medium bowl. Pour 1/2 cup (125 mL) cream into a small saucepan over medium heat and bring to a boil. Remove from heat and pour over chopped chocolate, whisking to combine. Spread in the bottom of the prepared shells, and return to the refrigerator until set.
Combine peanut butter and sweetened condensed milk in a large bowl with a hand mixer until smooth. Transfer to a mixing bowl.
Whip remaining 1/2 cup (125 mL) heavy cream to soft peaks in another bowl. Add half of the whipped cream to peanut butter mixture; folding in gently to combine.
Spoon mixture into prepared crust. Top tart with dollops of remaining whipped cream and chocolate curls. Let chill for at least one hour and up to 2 days before serving.