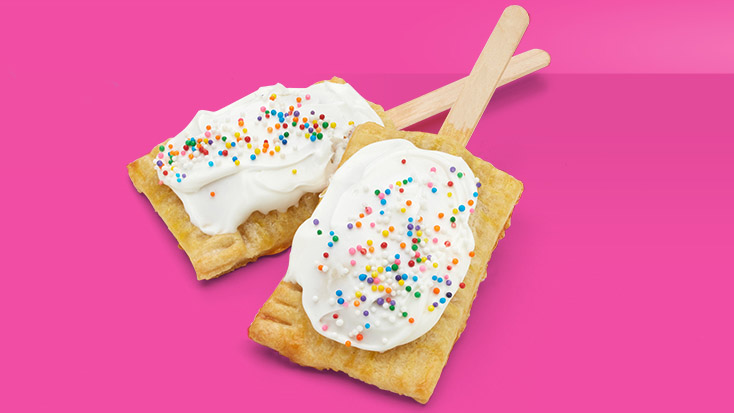 ,
SERVES:

6

PREP TIME:

20

minutes
BAKE TIME:

12

minutes
TOTAL TIME:

32

minutes
ingredients
1 Tenderflake® All Vegetable Shortening Pie Shell thawed
2 cups (500 mL) cubed Vanilla Sponge cake
1/4 cup (60 mL) pre-made vanilla icing plus 3 tbsp. for decorating
1 egg yolk
1 tbsp. (15 mL) milk
6 Popsicle sticks
Sprinkles
directions
Pre-heat oven to 350F (176C). Line a baking tray with parchment paper.
In a small bowl crumble cake and stir in Πcup of icing until combined. Roll mixture into 6 even rounds.
Remove pie shell from foil pie plate and place onto a lightly floured work surface. Using a lightly floured rolling pin, flatten pastry. Cut pastry into 4, 3x 2 inch thick rectangles. Re-roll and cut pastry to make 12 rectangles. Reserve remaining scraps.
Place 6 pastries onto lined baking tray; alternate pastry to leave enough room for popsicle sticks. Whisk milk and egg yolk together and brush pastries.
Place popsicle sticks in the center of each rectangle, followed by cake. Gently press cake down leaving a Πinch pastry boarder. Use reserved scraps to secure sticks.
Cover pastry and cake with remaining pastry squares; use the tines of a fork to gently press edges to seal; brush with egg wash. Refrigerate for 5 minutes.
Bake for 12 minutes until pastry is golden brown. Remove from oven and cool completely. Decorate with icing and sprinkles.
Tips: Tip: * Try using chocolate icing and chocolate cake for a yummy chocolaty treat.