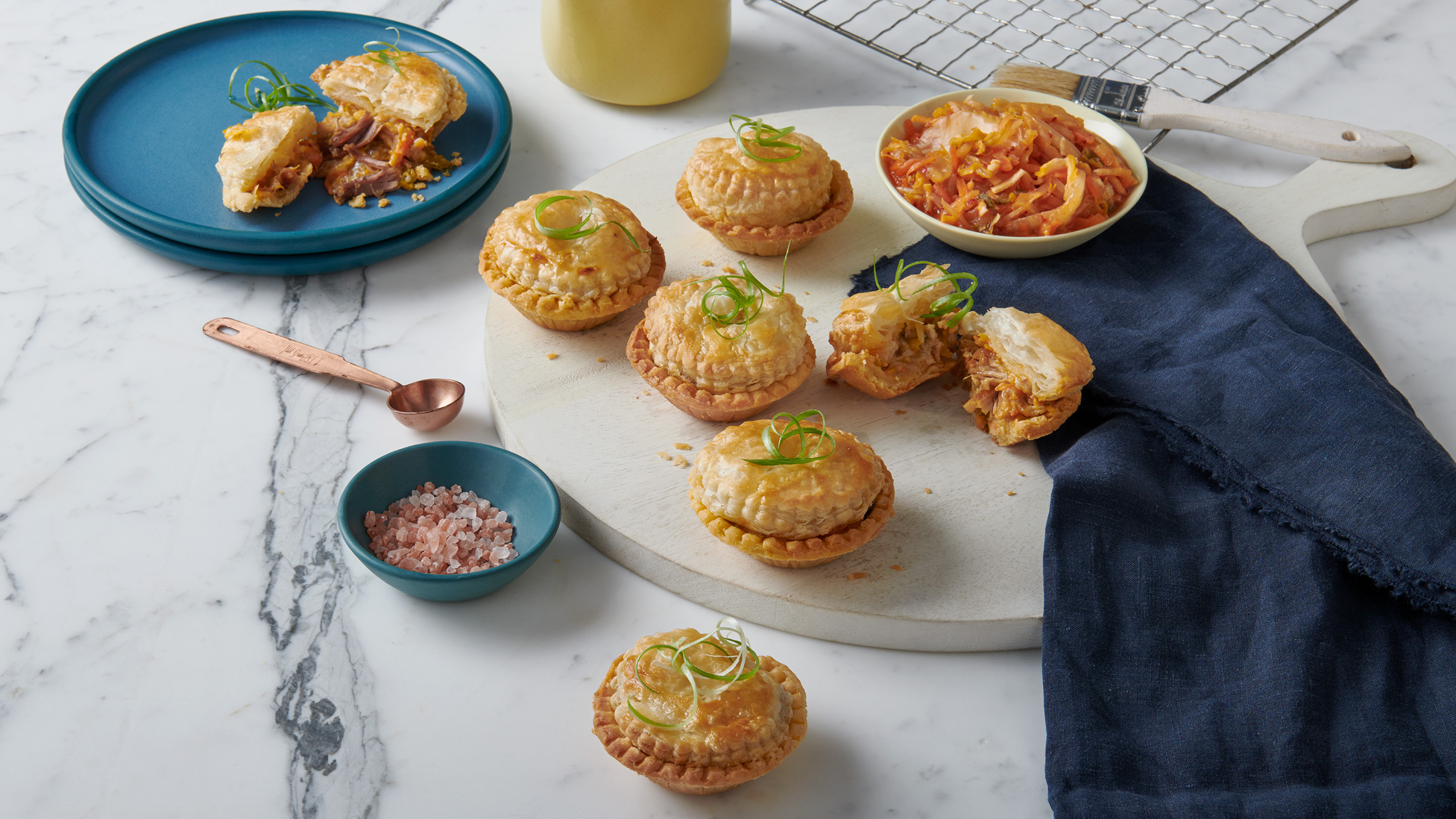 SERVES:

24

PREP TIME:

25

minutes
BAKE TIME:

20

minutes
TOTAL TIME:

45

minutes
ingredients
2 Packages TENDERFLAKE Tart Shells
1 Package TENDERFLAKE Puff Pastry, defrosted overnight in refrigerator
Flour for rolling out dough
3 Cups (750 mL) Boiled Pork Belly, Chopped
4 Tablespoons (60mL)Butter
2 Tablespoons (30mL) Flour
2 Cups (500 mL) Chopped Kimchi, Strained (Reserve Liquid)
8 Scallions, Chopped
2 Cloves of Garlic, Minced
1 Egg whisked with
1 Tablespoon Water for EGG WASH
directions
Arrange rack in bottom third of oven and PREHEAT oven to 400°F (205°C)
In a Skillet melt 1 Tablespoon (15mL) Butter and fry Pork Belly until browned on all sides
Add in Kimchi, Scallions and Garlic and cook until warmed
Push the Pork + Kimchi mixture to the side of the pan and add in the remaining Tablespoon of Butter
Melt and stir in Flour to form a Roux
Add in Reserve Liquid from Strained Kimchi to form a Sauce
Mix together and allow to cool to room temperature
Roll out crusts and edge with Egg Wash
Divide Kimchi Pork Mixture evenly into TENDERFLAKE Tart Shells
Lightly dust surface with Flour and roll out Puff Pastry.
Using a 3" (7.62 cm) round cutter, cut into 12 Rounds and place each round onto each tart + Egg Wash Tops
Bake for 20 minutes and let stand for 5 minutes.
Serve Hot + Enjoy!