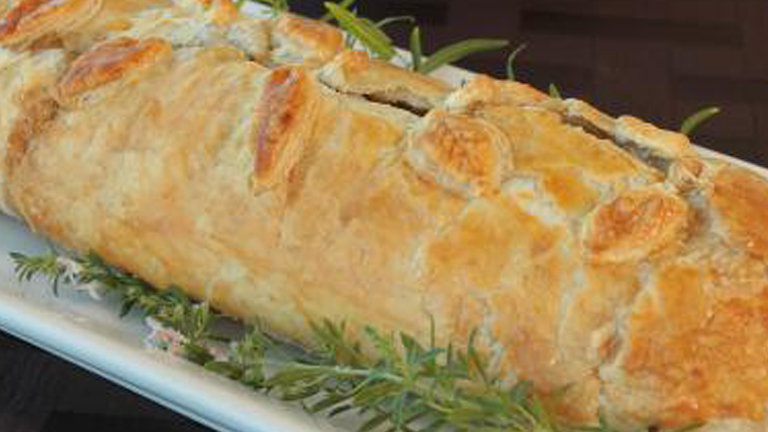 PREP TIME:

15

minutes
BAKE TIME:

32

minutes
TOTAL TIME:

47

minutes
ingredients
2 tbsp (30 mL) Butter
2 Shallots, minced
.5 (8 oz/227 g) Package mushrooms, finely chopped
Salt and pepper
.5 (397 g) Package Tenderflake® Frozen Puff Pastry, defrosted
1 Maple Leaf Prime® Pork Tenderloin
4 Slices prosciutto
2.5 tbsp (22 mL) Dijon mustard
2 tsp (10 mL) Chopped fresh thyme
1 Egg, beaten
directions
PREHEAT oven to 400°F (200°C).
HEAT butter in a medium skillet over medium-high. Add shallots and mushrooms, season with salt and pepper. Cook for 3-5 minutes or until very tender. Remove from heat and cool to room temperature. Place in the bowl of a food and pulse to coarsely chop. Set aside.
ROLL out puff pastry on a lightly floured work surface using a lightly floured rolling pin to a 10×12" (25X30 cm) rectangle. Place on a parchment paper lined baking tray.
TRIM any excess fat or silver skin from the pork tenderloin. Place the prosciutto on a clean work surface overlapping diagonally. Season the pork with salt and pepper and place on top of the prosciutto. Wrap prosciutto tightly around the tenderloin.
SPREAD a thin layer of Dijon mustard over the pastry leaving a 2" (5 cm) border around the edges. Spread a thin layer of the mushroom and shallot mixture over the mustard. Sprinkle with thyme. Place pork in the centre of the pastry, folding the thin ends underneath for even cooking. Trim about 1" (2.5 cm) from the border of the pastry using a pizza cutter or sharp knife. Reserve these pieces for garnish. Brush the border with egg wash; wrap pastry around the tenderloin to enclose. Place seam side down on the baking tray. Make several small slits in the top to allow steam to escape.
CUT small leaves from the discarded pasty. Brush the top of the wellington with egg wash to adhere the leaves in a decorative fashion.
BAKE in preheated oven for 15 minutes. Reduce oven temperature to 375F (190°C) and bake for another 10-12 minutes or until the internal temperature has reached 160°F (71°C) and the pastry is golden brown.