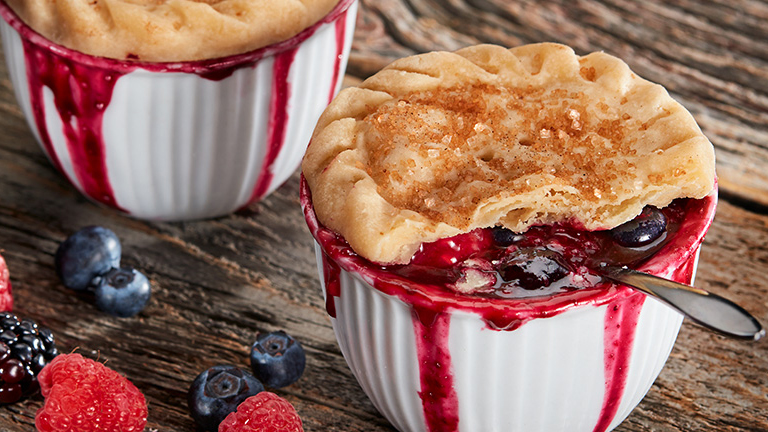 SERVES:

4

PREP TIME:

5

minutes
BAKE TIME:

8

minutes
TOTAL TIME:

13

minutes
ingredients
4 Tenderflake® Tart Shells
2 ½ cups (592ml) assorted berries
1 tsp (5ml) cornstarch
Zest of 1 lemon
3 Tbsp. (45ml) sugar, plus 1 Tbsp. (15ml)for sprinkling
½ tsp (2.5ml) cinnamon
directions
Thaw pastry according to package directions.
In a large bowl, mix together the berries, cornstarch, lemon zest and 3 Tbsp. (14ml) sugar. Distribute the berries evenly between 4 3oz ramekins.
Place the tart shells upside down on a piece of parchment paper. Using your hands flatten into a disc, shaping together any cracks in the dough. Use a wooden skewer to make a few holes in the top.
Mix together the remaining 1 Tbsp. (15ml) sugar and the cinnamon. Sprinkle over the pie tops and microwave for 2 minutes at 700 wattage. Repeat for the remaining two tart shells and set aside.
Place the 4 ramekins in the microwave and cook for 3 minutes at 700 wattage. Top each ramekin with a pie top. Let the pies rest for about 5 minutes before serving.