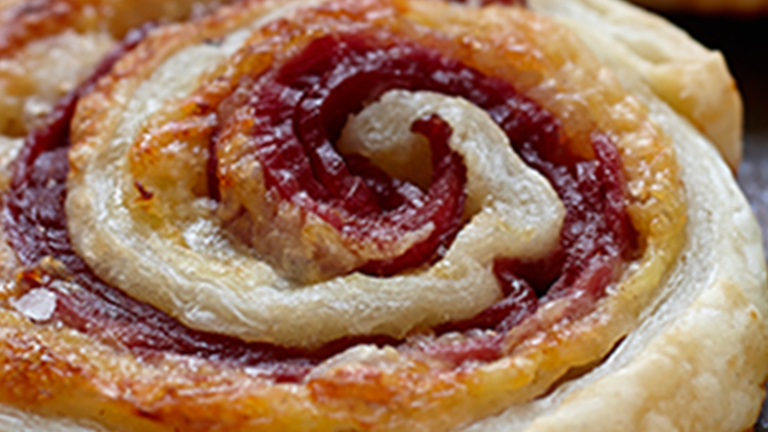 PREP TIME:

15

minutes
BAKE TIME:

90

minutes
TOTAL TIME:

105

minutes
ingredients
1/2 (397 g) Tenderflake® Frozen Puff Pastry, defrosted
1/4 cup (60 mL) Prepared mustard
3/4 cup (175 mL) Grated Swiss cheese
1/4 cup (60 mL) Sauerkraut, drained and finely chopped
8 Slices deli-style corned beef
1 Egg, beaten
directions
ROLL puff pastry on a lightly floured work surface with a lightly floured rolling pin to a 10×12" (25×30 cm) rectangle. Spread mustard on the pastry leaving a 1" (2.5 cm) border along one of the longer edges. Sprinkle with cheese and sauerkraut then a layer of corned beef. Roll the pastry as tightly as possible beginning from the longer edge without the border. Brush the border lightly with egg wash and seal. Wrap the roll snuggly with plastic wrap and refrigerate for 1 hour or up to overnight.
PREHEAT the oven to 400°F (200°C).
UNWRAP the pastry and using a very sharp knife, slice into Œ" (.5 cm) rounds. Place on a parchment paper lined baking sheet and bake for 20-22 minutes or until puffed and golden. Serve warm.