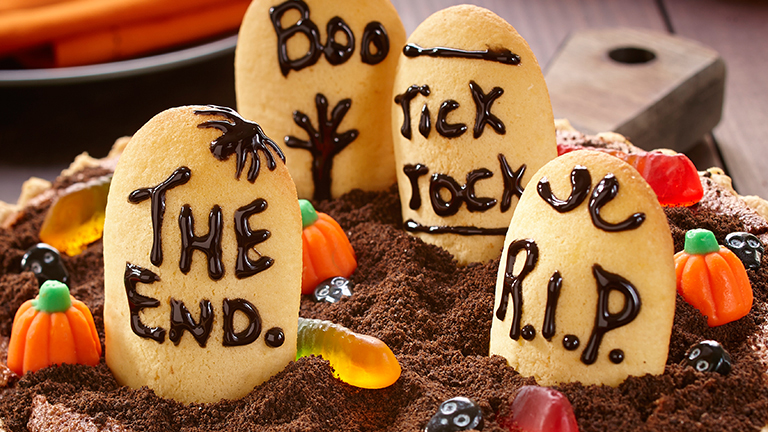 PREP TIME:

15

minutes
BAKE TIME:

75

minutes
TOTAL TIME:

90

minutes
ingredients
1 Tenderflake® All Vegetable Shortening Frozen Deep Dish Pie Shell
1½ cups (375 mL) Sugar
5 tbsp (75 mL) Cocoa powder
2 tbsp (30 mL) Flour
¼ tsp (1 mL) Salt
½ cup (125 mL) Evaporated milk
3 Eggs, beaten
1/3 cup (80 mL) Unsalted butter, softened
1 tsp (5 mL) Vanilla
¼ cup (60 mL) Chocolate cookie crumbs
½ (150 g) Package giant lady finger biscuits
½ (120 g) Tube decorative chocolate icing
directions
PREHEAT oven to 375°F (190°C). Prick the pie shell all over with a fork and bake for 10-12 minutes or until golden brown. Remove from oven and reduce oven temperature to 325°F (160°C).
COMBINE sugar, cocoa, flour and salt in a medium bowl. Stir in milk. Whisk in eggs one at a time, add butter and vanilla and beat until smooth.
POUR the mixture into the partially baked pie shell. Return to the oven and bake for 55-60 minutes.
ALLOW the pie to cool completely and decorate by sprinkling chocolate cookie crumbs on top. Cut the ladyfingers into halves and use the decorative chocolate icing to write your own spooky messages on the "tombstones". Stick the cookies into the pie creating a "graveyard". Very scary!