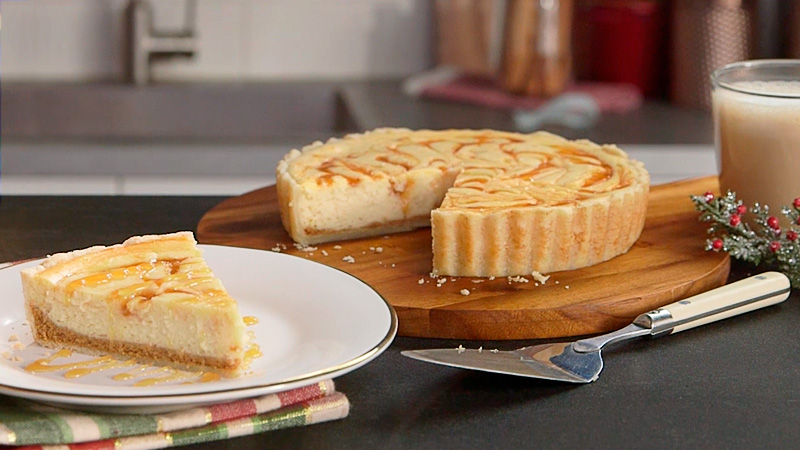 SERVES:

6

PREP TIME:

45

minutes
BAKE TIME:

45

minutes
TOTAL TIME:

90

minutes
ingredients
1 Tenderflake® Deep Dish Pie Shell
1/2 cup graham crumbs
3 tbsp butter melted
375g plain cream cheese, room temperature
1/2 cup sugar
1/4 cup eggnog
1 large egg
1 tbsp cornstarch
2 tbsp rum extract
1/2 tsp ground nutmeg
1/3 cup butterscotch sauce
directions
Thaw pie shell according to package instructions. Preheat oven to 325°F. Transfer pie shell into an 8-inch round fluted tart pan and gently press into pan.
In a small mixing bowl stir together melted butter and graham crumbs. Press into base of pie shell.
Using an electric hand mixer set on low, beat cream cheese and sugar together until smooth and creamy. Add eggnog, egg, cornstarch, 1 tbsp. rum extract and nutmeg; beat on low until creamy and combined. Pour mixture over graham crust.
In a small bowl, stir together butterscotch and 1 tbsp. rum extract. Dot cheesecake with Œ-cup of butterscotch; reserve the remaining for serving. Using the tip of a knife, gently pull caramel through mixture creating a marbled effect.
Bake for 40 minutes - 1 hour. Allow cheesecake to cool completely; refrigerate 2 -3 hours before serving. Drizzle slices with reserved butterscotch sauce.
Tips: *To check doneness: insert a toothpick into the center of cheesecake, if it comes out clean cheesecake is done.