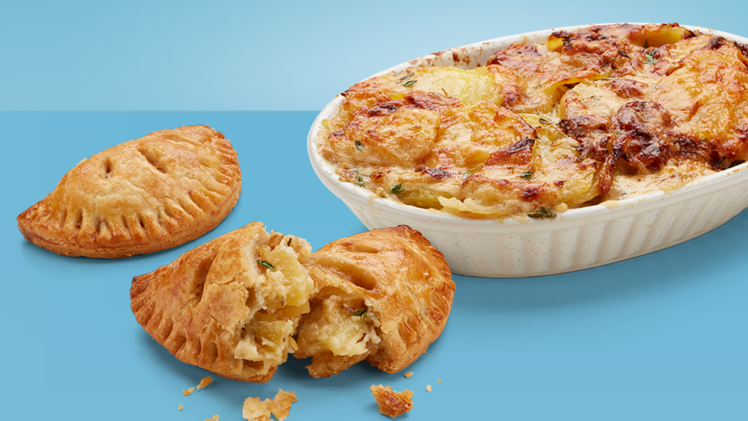 Scalloped Potato Turnovers
SERVES:

10

PREP TIME:

15

minutes
BAKE TIME:

105

minutes
TOTAL TIME:

120

minutes
ingredients
2 Tenderflake Deep Dish pie shells
1 tbsp (15 mL) Butter
1/2 Cooking onion, sliced
1 Clove garlic, halved lengthwise
1/4 cup 35% Whipping cream
1/4 cup 3.25% Milk
1 tbsp Fresh thyme leaves
1/4 tsp Each, salt and freshly ground pepper
1/2 lb (225g) Yukon Gold potatoes (about 2 medium), peeled and thinly sliced
1/2 cup (125 mL) Gruyere cheese, grated
1 Egg yolk
1 tbsp (15 mL) Water
directions
PREHEAT oven to 375F (190C).
MELT butter in a skillet over medium high heat. Cook onions until very soft and deep caramel in colour, about 15 minutes. Set aside.
RUB inside of an 8-inch baking dish with cut sides of garlic.
HEAT cream, milk, thyme, and salt in a medium saucepan over medium heat until bubbles form around edge. Season with pepper. Remove from heat.
TOSS potatoes and onions in cream mixture and transfer to prepared dish. Sprinkle with the cheese. Bake until potatoes are fork tender and top is bubbling and golden brown, about 30 minutes. Let cool completely.
REMOVE the pie shells from the foil pie plates onto a lightly floured work surface. Flatten the pastry with a lightly floured rolling pin then cut circles from each pastry shell, using a 4" (10 cm) round cookie cutter. Reroll scraps to make two more rounds.
SCOOP a heaping tablespoon of the potato mixture on each of the pastries. Brush the edges with egg wash; fold in half and press the edges to seal. Place on a parchment paper lined baking tray. Prick the tops with a fork or cut a small slit in the top of each pastry to allow steam to escape. Brush with egg wash and sprinkle with salt.
BAKE in a 375F for 18-20 minutes or until golden brown.
Tips: Tip: This is a great use for leftover scalloped potatoes.