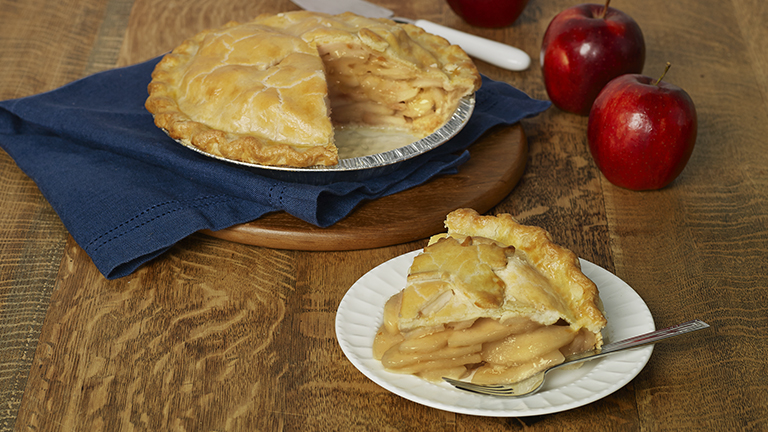 ,
SERVES:

6

PREP TIME:

20

minutes
BAKE TIME:

70

minutes
TOTAL TIME:

270

minutes
ingredients
2 pkgs Tenderflake® Regular Pie Shells
10 cups (2kg) Cortland apples, cored, peeled and sliced
2 tbsp (30 mL) lemon juice
1/2 cup (125 mL) granulated sugar
1/4 cup (60 mL) brown sugar
4 tbsp (60 mL) cornstarch
1/2 tsp (2.5 mL) each ground cinnamon and ground ginger
Pinch of salt
2 tbsp (30 mL) butter, cut into small pieces
directions
Remove two thawed pastry shells from their tins. Place on top of one another and on a lightly floured surface roll out to a 12-inch circle.
In large bowl, combine apples, lemon juice, sugars, cornstarch, cinnamon, ginger and salt.
Arrange apple mixture into a pie shell, on a baking sheet; fitting pieces together tightly to prevent air pockets and pie from losing its shape. Dot apple filling with butter pieces. Cover the filling with the rolled out pastry circle and secure edges and crimp as desired. Make vent holes with the tip of a paring knife.  Freeze for 15 minutes.
Flatten the remaining crust and cut into shapes (like the butterfly as pictured) with your favourite cookie cutters.
In small bowl, whisk together egg and milk. Brush egg mixture over chilled pie. Brush pastry cutouts with remaining egg wash and lay on top of crust.
Bake in a 400°F (205°C) oven for 25 min. Reduce heat to 350°F (176°C) and bake just until crust is golden and juices are bubbling, about 45 minutes. Check on crust occasionally and if it starts to look too dark, cover loosely with foil and continue baking. Allow pie to cool for at least 3 hours before slicing.