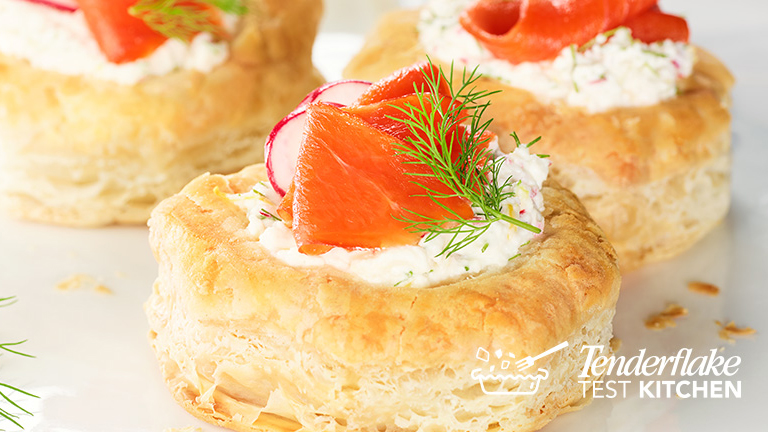 Smoked Salmon and Radish Ricotta Patty Shells
SERVES:

6

PREP TIME:

25

minutes
BAKE TIME:

15

minutes
TOTAL TIME:

40

minutes
ingredients
1 box of Tenderflake® Patty Shells (slightly defrosted)
6 slices smoked Atlantic salmon thawed
3 radishes
1cup extra smooth ricotta cheese
Zest and juice of one lemon reserve 1 tbsp. lemon juice.
2 tbsp. fresh dill, finely chopped plus springs for garnish
2 tbsp. fresh tarragon, finely chopped
Salt and pepper to taste
directions
Bake patty shells according to package instructions. Set aside.
Grate two radishes and set aside in a small bowl.
In a medium bowl, combine radish, ricotta, lemon juice and zest, dill and tarragon; season with salt and pepper to taste.
Evenly fill each shell with ricotta mixture. Sprinkle salmon with reserved lemon juice. Thinly slice remaining radish and top filling with two radish slices and a folded salmon slice.
Garnish with fresh springs of dill. Serve immediately and enjoy!